Gadgets
The WINGStand is a very interesting little product that is designed to hold your tablet or smartphone such as the iPad or iPhone right next to the curved Apple Bluetooth keyboard. The little stand has a curve in the front that is made to fit the keyboard. That curve allows the tablet or iPhone to sit right over the top rounded section of the keyboard for comfortable use. The idea is that you can push the iPhone or iPad up to the keyboard and type away using the keyboard at a comfortable distance from the screen. The little stand is being made for injection-molded plastic in White or as shown in (Eco Friendly) Black.
Wingstand - The Official Wingstand Merchant Store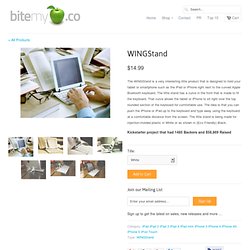 The 1 percent have long had smartphones from Porsche and Vertu to quench their high-end thirst, but when it comes to dual-SIM handsets, the elite have had to settle for something a little more ordinary. For those in need, Gresso created Azimuth, the first dual-SIM luxury handset. Starting at $2,000, the phone is made of titanium, with both the keys and logo crafted out of 18K or white gold. Since appearances are all that matter, you're getting some pretty low-end specs under the hood, including 2GB of "internal memory," a 1.3-megapixel camera, Bluetooth 2.0 and a tiny 1,100mAh battery. To put things in perspective, Samsung's Galaxy S5 starts with 16GB of built-in storage, a 16-megapixel camera and a 2,800mAh battery.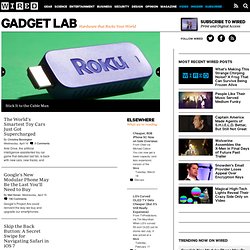 The 8 Best Cooking Apps for Seasoned Chefs By Brent Rose Friday, April 11 3 Comments Your culinary creativity knows no bounds, but your chef-fu is only half-baked. Here are some smartphone tools sure to spice up your next epicurean endeavor. Vine Creeps in on Messaging With New Private Video Option By Mat Honan and Christina Bonnington Thursday, April 3 0 Comments Vine launches a new private messaging feature.
Even if I don't get an idyillic paradise summer vacation, it's good to know my Sims will be having a wonderful time. You see, my virtual Sims will be playing in the brand-new "The Sims 3 Island Paradise Expansion Pack" (for PC/Mac and on Origin.com. Watch as we dive beneath the waves and explore what lies on the ocean floor, build and cruise along on our own houseboat to discover uncharted islands or create and run a five-star resort experience. "In The Sims 3 Island Paradise, The Sims Studio has brought to life a tropical vacation for players to experience without ever having to leave home," says Ryan Vaughan, Producer for The Sims. "With so many new gameplay features included in this game, players will be able to explore, inhabit and discover beachside bliss just as they would in real life." If you're in the mood to build and own your own resort, you can do that too.