Timelines
Online tools/resources for creating timelines. May 12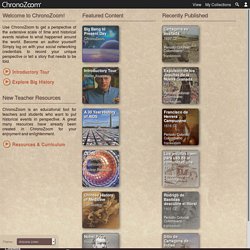 ChronoZoom is an educational tool for teachers and students who want to put historical events in perspective. A great many resources have been created already in ChronoZoom for your enjoyment and enlightenment. Start Exploring Use ChronoZoom to get a perspective of the extensive scale of time and historical events relative to what happened around the world.
Watch and read thousands of fascinating timelines, or create your own. Complete with text, video and pictures to create a dynamic timeline mashup. Using myHistro, you can combine maps and timelines seamlessly into one great presentation, convert any public timeline into a personal pdf file, or export it into Google Earth format for offline storage. All completed timelines can be embedded into your blog and websites for maximum exposure.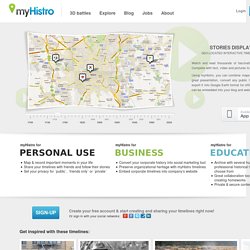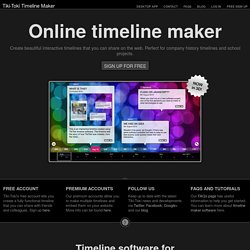 Why use Tiki-Toki? There are loads of timeline makers out there.What's so special about Tiki-Toki? Nothing to download Tiki-Toki works in your browser. Sign up for our freeaccount and you can start creating a timeline now Stunning 3d timelines No other online timeline makerallows you to view your timelines in 3d Include images and videos Tiki-Toki provides integration withYouTube and Vimeo for videos Share timelines with anyone Each timeline you create has its own unique urlthat you can send to friends or colleagues Colours and categories Tiki-Toki allows you to create different categoriesfor stories (events) and colour code them Group edit* Get your friends or colleaguesto contribute to your timelines Embed timelines on your site* Timelines created using Tiki-Toki can beembedded on your own website or blog *Active premium accounts only What can I do with Tiki-Toki?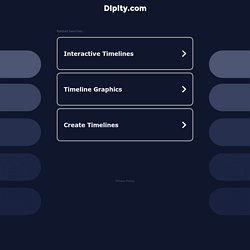 What is Dipity? Dipity is a free digital timeline website. Our mission is to organize the web's content by date and time.
There are many ways to create a timeline in Excel. Some methods use drawing tools or bar charts, as in my other timeline examples. Another popular method, especially for project timelines, is to use a gantt chart. This page descibes a method that I developed to create timelines quickly in Excel using an XY scatter chart with events as the data labels. Continue reading below to learn how to create the timeline from scratch, or save time by downloading the timeline template.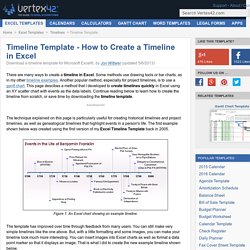 TimeRime