Timelines
Timeline JS - Beautifully crafted timelines that are easy, and intuitive to use. TimelineJS tutorial. Dipity. Tiki-Toki. Timelines.com: Discover, Record and Share History with Timelines® Capzles: Create A Timeline From Images & Videos. There are web applications that let you create photo albums (Piacasa, Jalbum), and then there are applications that allow you to create videos and animations (Animoto, e.t.c.).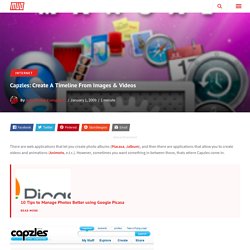 However, sometimes you want something in between those, thats where Capzles come in. Capzles allows you to create a timeline from captured moments of your life such as photos, videos and various other features like music and background. It doesn't animate your photos or make a slideshow out of them. Rather, capzles treat every photo as a moment and combine the moments to create a timeline. Capzles Social Storytelling. Using Capzles – "Social Storytelling", Archiving & PowerPoint Alternative. In the constant pursuit of the latest and coolest tools for creating engaging presentations, one of my esteemed colleagues mentioned this to me.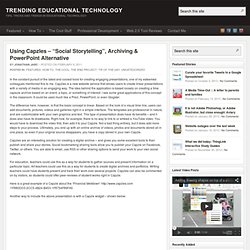 Capzles is a new website service that allows users to create linear presentations with a variety of media in an engaging way. The idea behind the application is based loosely on creating a time capsule archive based on an event, a topic, or something of interest. I see some great applications of this concept in the classroom. It could be used much like a Prezi, PowerPoint, or even Glogster. The difference here, however, is that the basic concept is linear.
Historypin | Home. TimeGlider: Web-based Timeline Software. OurStory.com. Preceden. Timetoast timelines. Time Rime.
---