Slideshows
Create Interactive Online Presentations, infographics, animations & banners in HTML5 - Visme by Easy WebContent. Watch. Rvl.io: Presentations Made Easy. Free Animated Video Backgrounds. Update!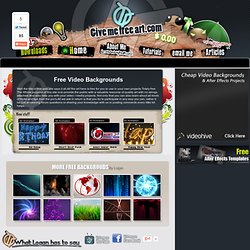 Happy Birthday Background Once again iam working on some birthday graphics to add to the aebuster store and i had some many ideas i wanted to try but many didnt work out as planned and so i decided to convert one of these to a free background for all of you to enjoy and mess around with. This is just happy birthday made out of balloons, it looks nice and and i know you guys can find some creatvie to use it for. So enjoy this animation for this month and i will see you on the next update. Scribd. Free Slideshow and Collage Maker.
You Can Now Add YouTube Videos to PowerPoint Presentations ( New Feature ) Tekzilla Dailly has just announced a new tidbit about PowerPoint presentations.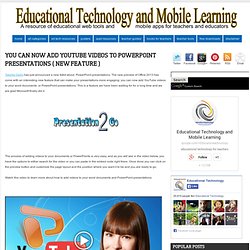 The new preview of Office 2013 has come with an interesting new feature that can make your presentations more engaging: you can now add YouTube videos to your word documents or PowerPoint presentations. This is a feature we have been waiting for for a long time and we are glad Microsoft finally did it. PowToon : Create Animated Presentations Online.
Haiku Deck from Giant Thinkwell. FlipSnack | PDF to Flash page flip - flipping book software. Projeqt - dynamic presentations for a real-time world. Photopeach for Education. Learn together in the classroom and share your projects with the world.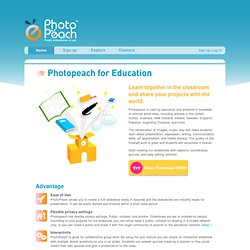 Photopeach is used by educators and students in hundreds of schools world wide, including schools in the United States, Australia, New Zealand, Ireland, Sweden, England, Pakistan, Argentina,Thailand, and more. The combination of images, music, and text helps students learn about presentation, expression, writing, communication skills, art appreciation, and media literacy. Free Templates for your Presentations. Just a week ago I published here an article about the best free presentation making tools.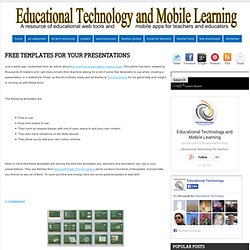 This article has been viewed by thousands of readers and I got many emails from teachers asking for a list of some free templates to use when creating a presentation or a slideshow. Cheer up the list is finally ready and all thanks to Tom Kuhlmann for his great help and insight in coming up with these tools. The following templates are : Free to useEasy and simple to useThey have an elegant design with lost of open space to add your own contentThey also have variations on the slide layoutsThey allow you to add your own colour scheme Keep in mind that these templates are among the best free templates you, teachers and educators, can use in your presentations. Jux. Simply the best showcase for your content. Zentation.com - Webinar software. Ahead. Movenote.
Online Presentations | Mobile Video Presentations | Brainshark. Skitch. Empressr - The Best Online Rich Media Presentation Application. More Than 5 Million Users Work Online With Zoho. HelloSlide - Bring your slides to life.
---