LS BLOG
The Wrath Against Khan: Why Some Educators Are Questioning Khan Academy. An Explainer Post There's an article in this month's Wired Magazine about Khan Academy.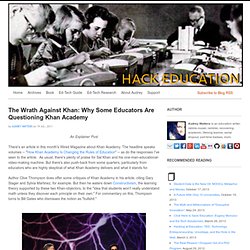 The headline speaks volumes -- "How Khan Academy Is Changing the Rules of Education" -- as do the responses I've seen to the article. How Khan Academy Is Changing the Rules of Education | Wired Magazine. Matthew Carpenter, age 10, has completed 642 inverse trigonometry problems at KhanAcademy.org.Photo: Joe Pugliese "This," says Matthew Carpenter, "is my favorite exercise."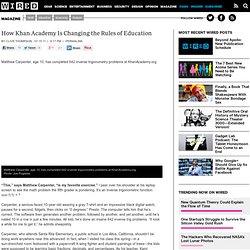 I peer over his shoulder at his laptop screen to see the math problem the fifth grader is pondering. Is A College Education Worth The Debt? Www.google.fr/url?sa=t&rct=j&q=&esrc=s&source=web&cd=1&ved=0CCsQFjAA&url=http%3A%2F%2Ftechcrunch.com%2F2011%2F04%2F10%2Fpeter-thiel-were-in-a-bubble-and-its-not-the-internet-its-higher-education%2F&ei=PnRsT_OpJsqf0QWqiozuBg&usg=AFQjCNGV_3hi2iXzLHezUIZDoDj. Fair warning: This article will piss off a lot of you.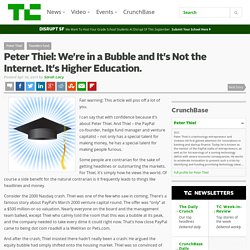 I can say that with confidence because it's about Peter Thiel. And Thiel – the PayPal co-founder, hedge fund manager and venture capitalist – not only has a special talent for making money, he has a special talent for making people furious. Some people are contrarian for the sake of getting headlines or outsmarting the markets. For Thiel, it's simply how he views the world. Of course a side benefit for the natural contrarian is it frequently leads to things like headlines and money. Gates Urges School Budget Overhauls. The higher-education bubble: More on Peter Thiel. Higher education: The latest bubble? Schumpeter: Declining by degree. Don't Lecture Me: Rethinking How College Students Learn. Flickr:AllHails At the star-studded Harvard Initiative on Learning and Teaching (HILT) event earlier this month, where professors gathered to discuss innovative strategies for learning and teaching, Harvard's professor Eric Mazur gave a talk on the benefits of practicing peer instruction in class, rather than the traditional lecture.
The idea is getting traction. What's On the Horizon in Higher Education. Big Ideas Culture Digital Tools Teaching Strategies Flickr: Dexterwas How will college life be different in five years than it is today?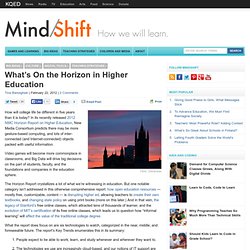 In its recently released 2012 NMC Horizon Report on Higher Education, New Media Consortium predicts there may be more gesture-based computing, and lots of inter-connected (and Internet-connected) objects packed with useful information. Video games will become more commonplace in classrooms, and Big Data will drive big decisions on the part of students, faculty, and the foundations and companies in the education sphere. The Horizon Report crystallizes a lot of what we're witnessing in education.
If School is Not Relevant. Uncategorized Flickr:Orange42 By Shelly Blake-Plock Imagine if schools were judged not by how well students achieved while they were in school, but in how well they achieved once they left.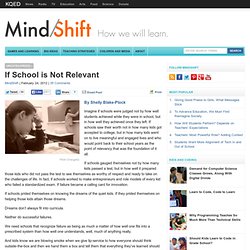 Venture Capital in Education: New Technology and New Solutions. At last week's SXSW interactive conference, blogger Betsy Corcoran of EdSurge convened a panel discussion among venture capitalists on the future of education technology: " Classroom 2020: VCs and the Education Revolution ".
Participants included Mitch Kapor of Kapor Capital, Phillip Bronner of Novak Biddle Venture Partners and Rob Hutter of LearnCapital . Education startups are "hot" right now, with stories on TechCrunch , big funding rounds and pop culture attention . But what really matters is not tech hype, but the need: Better solutions for schools, universities and workplace training. 11 Tech Factors That Changed Education in 2011.
Michael Staton is the founder of Inigral, which develops social software for student recruitment and higher education retention.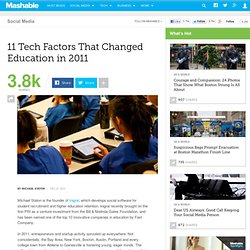 Inigral recently brought on the first PRI as a venture investment from the Bill & Melinda Gates Foundation, and has been named one of the top 10 innovative companies in education by Fast Company. In 2011, entrepreneurs and startup activity sprouted up everywhere. At Flex Academy, High School Mimics the Workplace. Culture Digital Tools Teaching Strategies Flex Academy By Kyle Palmer.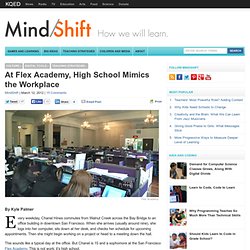 Learning Math: The Symbol Barrier. "Street Math", School Math, and Video Games "The children were absolute number wizards when they were at their market stalls, but virtual dunces when presented with the same arithmetic problems presented in a typical school format.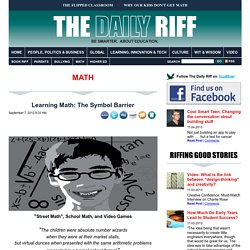 "- Dr. Eric Sheninger: Opening Minds on Social Networking. Don't ask me. Look it up. March 1, 2012 by mrkaiser208 Surely you remember hearing your own teachers say that. The class would be reading, and a student would come across an unfamiliar word, raise a hand and ask for the definition. Asking what the word meant often resulted in the teacher pointing toward the neatly stacked dictionaries in the corner of the room. 19th, 20th & 21st, Century Education. February 2, 2012 by tomwhitby A personal observation: Back when I began my early education, the year was 1952.
I don't believe Pre-K even existed back then, so I started my education in Kindergarten. Waldorf School of the Peninsula: A school without technology. March 20, 2012 by mrkaiser208 A recent story on CNN Student news mentioned a school that did not use technology as a mode of learning. The school is the Waldorf School of the Peninsula in Los Altos, California which is located in the heart of the Silicon Valley. I wasn't going to ask this cliche question, but isn't this a little ironic?
I did a little searching and found several stories written on this particular school several months ago. How can we improve education for all? NOTICE: This domain name expired on 09/19/2012 and is pending renewal or deletion. Share this .COM deal with friends! Over 53 million domains registered. Copyright © 1999-2012 GoDaddy.com, LLC. All rights reserved. Sugata Mitra: The child-driven education.
Google Earth: 1 Billion Downloads and So Many Uses in the Classroom. Google Earth was one of the very first pieces of software that I began to create educational resources with. As I put it in one of my first ever blog posts 5 years ago: "This app won me over straight away." The engaging environment really struck a chord with me and I remember fondly my first forays into using it to support learning. 10,000 Young People: Designing the Future. How Do We Change A Cultural Fascination With Grades? Can't play, won't play | Hide&Seek - Inventing new kinds of play. Sal Khan On 60 Minutes. Arthur Benjamin's formula for changing math education.
---