Design
"Designers, designers, designers" has become the new "developers, developers, developers." Witness the ever-growing list of job postings for product designers, UI designers, user research designers, UX designers.
Pinterest's Founding Designer Shares His Dead-Simple Design Philosophy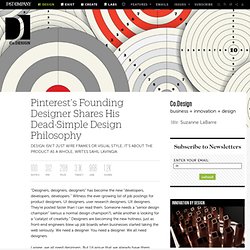 About Gmail's new look
Evolutionweb-full1.jpg (JPEG Image, 1000x9923 pixels) - Scaled (6
Top Prepa
Eight Deadly Sins of Site Design [Infographic] - ReadWriteCloud
You could say there is no right way to design and build a Web site – but you'll find plenty of wrong ways. KISSmetrics outlines eight of them with an infographic that answers the question "what makes someone leave a website? If you're designing or responsible for a site for a business, you might want to pay close and particular attention. I'm pretty forgiving when it comes to #6 (boring content, boring design) at least when it comes to the boring design part.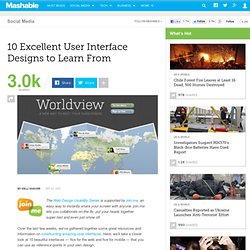 10 Excellent User Interface Designs to Learn From
The Web Design Usability Series is supported by join.me, an easy way to instantly share your screen with anyone. join.me lets you collaborate on-the-fly, put your heads together super-fast and even just show off. Over the last few weeks, we've gathered together some great resources and information on constructing amazing user interfaces. Here, we'll take a closer look at 10 beautiful interfaces — five for the web and five for mobile — that you can use as reference points in your own design.
As a general rule, your homepage will be the first encounter a visitor will have with your business.