Teaching Research
Better Research Basics, One Sentence at a Time. March 11, 2013 By: Barbara Barney Nelson, PhD and Scarlet Clouse in Effective Teaching Strategies Breathes there a professor of any subject with soul so dead who never to himself hath said, "Today's undergraduates are hopeless at research!"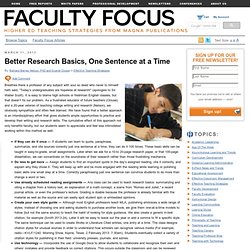 (apologies to Sir Walter Scott). Better Posters. Designing conference posters - Colin Purrington. A one-sentence overview of the poster concept A large-format poster is a big piece of paper (or wall-mounted monitor) that can communicate your research at a conference, and is composed of a short title, an introduction to your burning question, an overview of your novel approach, your amazing results in graphical form, some insightful discussion of aforementioned results, a listing of previously published articles that are important to your research, and some brief acknowledgement of the tremendous assistance and financial support conned from others — if all text is kept to a minimum, a person could fully read your poster in under 5 minutes (really).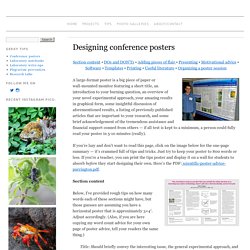 Why a poster? • Motivational advice • Choosing software • Poster templates • Section content • DOs and DON'Ts • Adding bits of flair • Presenting the poster • Useful internet sites • Useful literature • Printing the poster • Organizing a session • Using this page • Feedback. The Poster sessions Pool. By Mobify. On Friday, UCSB held its fifth annual Research Slam.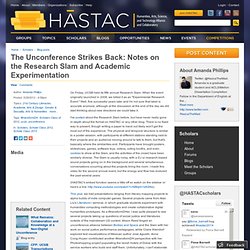 When the event originally launched in 2008, we billed it as an "Experimental Research Event. " Well, five successful years later and I'm not sure that label is accurate anymore, although at the discussion at the end of the day we did start thinking about new directions we could take it. I've posted about the Research Slam before, but have never really gone in-depth about the format on HASTAC or any other blog. Beyond Googling: Structuring Inquiry. Extreme Searching: Multi-Modal Media Research. Leah Shafer and Lisa Patti, Media and Society Program, Hobart and William Smith Colleges This assignment sequence introduces students to effective research methods through a series of engaging, interactive, and collaborative tasks that lead to the development of a multi-modal research dossier and a media project.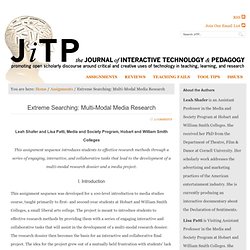 I. Introduction This assignment sequence was developed for a 100-level introduction to media studies course, taught primarily to first- and second-year students at Hobart and William Smith Colleges, a small liberal arts college. The Importance of Source Evaluation and Content Credibility Skills for Today's Students. Guest post by Patrick J.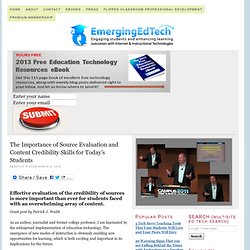 Walsh As an author, journalist and former college professor, I am fascinated by the widespread implementation of education technology. The emergence of new modes of instruction is obviously enabling new opportunities for learning, which is both exciting and important in its implications for the future. Who Says What Looking toward that future, I tend to see the ongoing evolution of education technology through the filter of the communications theory of the late Harold Lasswell, who described the process of communications as "who says what to whom, through what channel, with what result." Better Research Basics, One Sentence at a Time. University | Thompson Writing Program: Working with Sources. Evaluating Sources Evaluating Sources of Information (Purdue): All sources aren't created equal.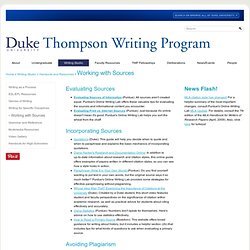 Purdue's Online Writing Lab offers these valuable tips for evaluating the sources and informational content you encounter.Evaluating Print vs. Update: 'Google Search Education' Google's search engine is a powerful and impressive tool for locating information online.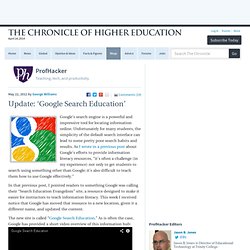 Unfortunately for many students, the simplicity of the default search interface can lead to some pretty poor search habits and results. As I wrote in a previous post about Google's efforts to provide information literacy resources, "it's often a challenge (in my experience) not only to get students to search using something other than Google; it's also difficult to teach them how to use Google effectively." In that previous post, I pointed readers to something Google was calling their "Search Education Evangelism" site, a resource designed to make it easier for instructors to teach information literacy. Freshman Composition Is Not Teaching Key Skills in Analysis, Researchers Argue - Faculty.
March 21, 2012 By Dan Berrett Students in first-semester composition classes are routinely assigned to write a research paper, but this exercise rarely succeeds because they do not yet grasp how to analyze their sources, say the chief researchers of a multi-institutional study of college students' citations.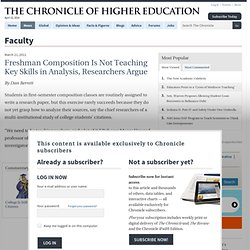 "We need to be teaching analysis, and a lot of it," Rebecca Moore Howard, professor of writing and rhetoric at Syracuse University and co-principal investigator of the Citation Project, said in an interview. Building Good Search Skills: What Students Need to Know. Digital Tools Teaching Strategies Getty The Internet has made researching subjects deceptively effortless for students — or so it may seem to them at first.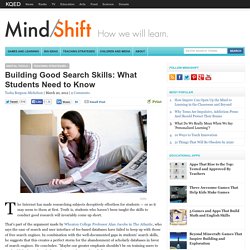 Truth is, students who haven't been taught the skills to conduct good research will invariably come up short. That's part of the argument made by Wheaton College Professor Alan Jacobs in The Atlantic, who says the ease of search and user interface of fee-based databases have failed to keep up with those of free search engines. Using social media for student research, part 1: setting up  My students are in a research lull.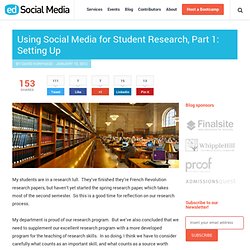 They've finished they're French Revolution research papers, but haven't yet started the spring research paper, which takes most of the second semester. So this is a good time for reflection on our research process. My department is proud of our research program. Using social media for student research, part 2: practices and habits of mind  Photo credit: New Media Research, via Byrion Smith In an earlier post, I discussed how to get students set up to do research using social media.
This is the advice I'll give them on how to actually go about doing the research. The Technical Side of Things Managing social media can be overwhelming, so I'd give my students the following advice: Get the right apps. How do I cite a tweet? Begin the entry in the works-cited list with the author's real name and, in parentheses, user name, if both are known and they differ. If only the user name is known, give it alone. Next provide the entire text of the tweet in quotation marks, without changing the capitalization.
Conclude the entry with the date and time of the message and the medium of publication (Tweet). Critical thinking.
Teacher's Guides and Analysis Tool - For Teachers.
---