CPD
Self Organisation and Virtual Learning
Bloom's Taxonomy, developed in the 1950′s, expresses thinking and learning through a set of concepts that begin with lower order thinking skills (LOTS) and build to higher order thinking skills (HOTS). The initial phraseology of Bloom's Taxonomy had six levels, beginning with knowledge at the lowest, then progressing through comprehension, application, analysis, synthesis and evaluation. The basis for the theory is rather straightforward, a person cannot understand something that he does not remember (know) nor can he/she analyze or apply that knowledge if the person does not understand the material. Though an ability to analyze and apply certainly supersedes the basic knowledge category, to synthesize entails divergently applying knowledge and/or skills to produce something new.
Bloom's Taxonomy and the Digital World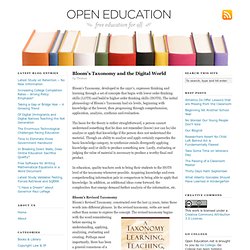 CIE - The Center for International Education - UW - Milwaukee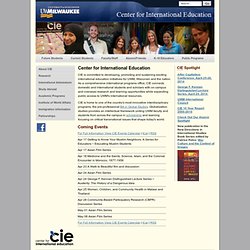 CIE is committed to developing, promoting and sustaining exciting international education initiatives for UWM, Wisconsin and the nation. As a comprehensive international programs office, CIE connects domestic and international students and scholars with on-campus and overseas research and learning opportunities while expanding public access to UWM's international resources. CIE is home to one of the country's most innovative interdisciplinary programs, the pre-professional BA in Global Studies . Globalization studies provides an intellectual framework uniting UWM faculty and students from across the campus in scholarship and learning focusing on critical transnational issues that shape today's world.
Awards The Theory and Practice of Online Learning is the winner of the 2009 Charles A. Wedemeyer Award , provided by the University Professional & Continuing Education Association. Click here for more information on their Community of Practice Awards program.
Athabasca University Press - The Theory and Practice of Online Learning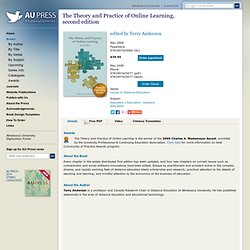 Know IT All for Trainee Teachers
EPICT
OpenSourceCPD : Main - Home Page browse
100 Best YouTube Videos for Teachers | Smart Teaching
With the increasing use of technology in classrooms , it's no wonder that teachers have a growing interest in using YouTube and other online media sharing sites to bring information into their classrooms. Here are 100 YouTube videos that can provide supplementary information for the class, give inspiration, help you keep control of class and even provide a few laughs here and there. History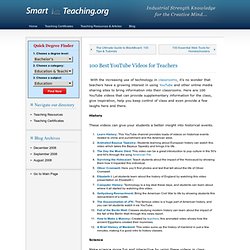 LabSpace - LabSpace - OpenLearn - The Open University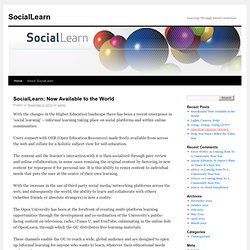 With the changes in the Higher Education landscape there has been a recent emergence in 'social learning' – informal learning taking place on social platforms and within online communities. Users connect with OER (Open Education Resources) made freely available from across the web and collate for a holistic subject view for self-education. The content and the learner's interaction with it is then socialised through peer review and online collaboration, in some cases remixing the original content by factoring in new content for repurpose it for personal use.
SocialLearn