Video Libraries
CrashCourse. BrainPOP - Animated Educational Site for Kids - Science, Social Studies, English, Math, Arts. Answers. Grockit Answers is just-in-time Q&A for video lectures.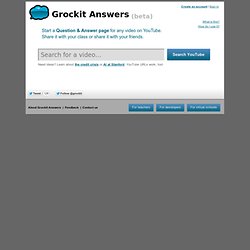 In Grockit Answers, interactions happen around video lectures, and participants ask and answer questions about specific points in the lecture. Since every question is attached to a specific point in time in the video, Grockit Answers displays a question and its answers at the point in the lecture that they are most relevant. And since the things that confuse you are likely to be the same things that confuse others, you'll find that answers to your own questions pop up on the screen just as you're starting to get confused. 100 Incredibly Useful YouTube Channels for Teachers | Online College Courses. YouTube has earned a reputation for featuring brain cell-slaughtering fare such as the truly abysmal Fred and playing host to the some of the most depressingly stupid comments this side of Yahoo!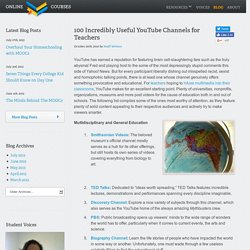 News. But for every participant liberally dishing out misspelled racist, sexist and homophobic talking points, there is at least one whose channel genuinely offers something provocative and educational. For teachers hoping to infuse multimedia into their classrooms, YouTube makes for an excellent starting point. Plenty of universities, nonprofits, organizations, museums and more post videos for the cause of education both in and out of schools. The following list compiles some of the ones most worthy of attention, as they feature plenty of solid content appealing to their respective audiences and actively try to make viewers smarter. Welcome to Discovery Education. The Cove | Watch Documentary Free Online - Documentary Tube. Get the latest Flash Player to see this player.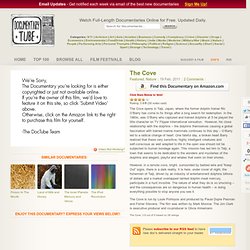 <p>[Javascript required to view Flash movie, please turn it on and refresh this page]</p> Processing your request, Please wait.... Educational Videos | Teacher Videos for Students | SnagLearning. Home | Watch Free Movies and Documentaries Online | SnagFilms. WatchKnowLearn - Free Educational Videos for K-12 Students.
---