Lesson Plans
coolcatteacher.visibli.com/share/6A9aNq
Home
Lesson Planet - School Edition
edtechpost - OER Dynamic Search Engine
The Differentiator is a simple web app that helps you create objectives based on Bloom's Taxonomy. You simple click on the thinking skill, content, resources, product, or group tabs and then select what you want the student to do by clicking on the sub categories. For example, on the Thinking Skill tab, you can chose Remembering, Understanding, Applying, Analyzing, Evaluating, or Creating and then a sub-term. Product tab has visual, multi-media, oral, written, and construct tabs as what the student would create as a product to demonstrate their learning. I think this is a great tool to help teachers come up with different objectives and some different activities for students to do in class.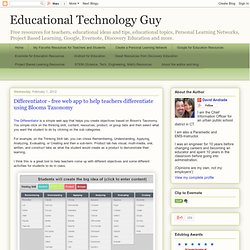 Differentiator - free web app to help teachers differentiate using Blooms Taxonomy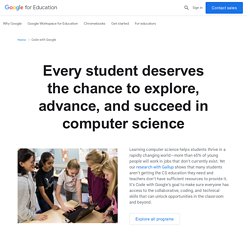 CS Unplugged RoxAnn H. Stalvey at College of Charleston Computer Science Unplugged, CS Unplugged, is a collection of computer science activities that are designed to introduce students to computing concepts without using a computer. Most, if not all, of the activities involve student participation through kinetic learning experiences. Activities generally take 5 – 20 minutes to deliver and offer an exciting way to engage students, from kindergartners up to senior citizens, in interactive introductions to difficult computing topics.
Select a program below, and click on the VoD icon to view it. If you cannot find the resource you are looking for in this list, check our discontinued series list for distributor contact information. Against All Odds: Inside Statistics
SAS® Curriculum Pathways®
Comment:4.1 average rating | Comments (50)Last Updated:24 December, 2013Section:Resources We've picked out a selection of must-have classroom management and lesson planning resources uploaded and rated by teachers. This list includes some of the most popular resources ever uploaded to the TES, some have been downloaded by more than 130,000 teachers!