Teacher Tools
As part of their preparation for the new school year teachers try to look for new web resources and materials they can use to help them with their teaching.This is definitely not an easy task for one needs to live online in order to be able to keep up with the new releases and sift through the tsunami of web tools available online. In this regard, Educational Technology and Mobile Learning has recently started posting a series of articles featuring some of the best free web resources for teachers across different educational spectrum. We have already published lists of free websites for teachers of ; Math, Science, Language Arts, Social Studies , Music Education , Economics, and Physical Education and Health, ESOL and today we are going to provide you with another list of great websites where teachers can find lesson plans, teaching tips and many more. Check out the list below and let us know what you think.
A List of 16 Websites Every Teacher should Know about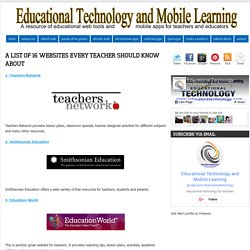 Presentations and slideshows are important elements in the digitisation of your teaching. Sometimes playing a slideshow for students can do a better job in conveying the ideas you want to communicate to your students. Probably all of you have had an experience with the creation of a presentation somehow Anyway the purposes of this post is not to provide you with a list of the best presentation making tools ( we have already done this in an earlier post ) but share with you some great resources where you can find and download educational PowerPoint presentations to use in your classroom with your students.
4 Great Free Educational Power Point and Slideshow Resources for Teachers to Download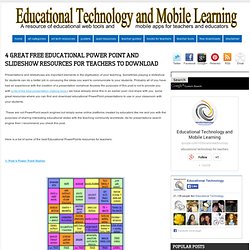 Game Templates

5 Digital Field Trips For Your Class
Field trips allow students to learn while engaging all of their senses. Although some districts may lack the funding to afford students these valuable educational opportunities, you can bring the field trip to the classroom with modern technology. Here are five virtual field trips that are a must-see for any grade level: 1. Google Earth
SideVibe
My Standards Alignment | ReadWorks.org
Educators at colleges and universities use many tools to assess their students' grasp of academic subjects, including traditional paper-and-pencil quizzes and tests taken in the classroom. Now a number of computer software and Web-based programs have been added to teachers' tool kits for evaluating learning outcomes, whether their classes are conducted in person or online. These programs all offer reporting and analytics tools to help educators gauge the status and level of students' comprehension. Armed with a comprehensive set of data, instructors can modify their teaching to help those students who need assistance to succeed academically.
Measuring Learning Outcomes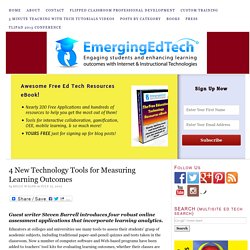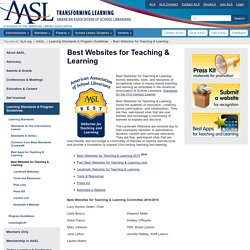 Best Websites for Teaching and Learning | American Association of School Librarians (AASL)
Best Websites for Teaching & Learning honors websites, tools, and resources of exceptional value to inquiry-based teaching and learning as embodied in the American Association of School Librarians' Standards for the 21st-Century Learner. Best Websites for Teaching & Learning foster the qualities of innovation, creativity, active participation, and collaboration. They are free, web-based sites that are user friendly and encourage a community of learners to explore and discover. The Landmark Websites are honored due to their exemplary histories of authoritative, dynamic content and curricular relevance. They are free, web-based sites that are user-friendly and encourage a community of learners to explore and discover and provide a foundation to support 21st-century teaching and learning.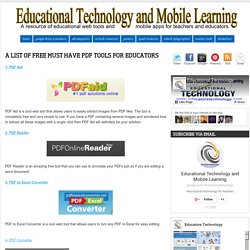 I love PDFs and I favour them over the other document formats and I am pretty sure many of you love then too. There are many things we can do with them apart from just viewing and reading them. Web 2.0 technologies have provided us with some free awesome tools to interact with this document format.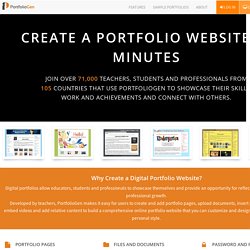 Portfoliogen is the first absolutely FREE online service for teachers to create their own customized portfolio website. Developed by teachers for teachers, Portfoliogen allows users to create a web based portfolio and display your skills beyond the conventional paper-based portfolio. Registered users receive their own URL web address allowing them to share their credentials with prospective employers, principals, professors and peers.
Try Respondo! → ← Back to Byrdseed.com The Differentiator
15 Sites for Classroom Management Templates & Forms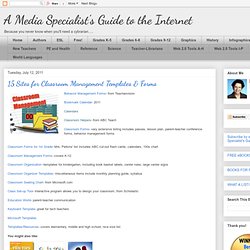 Behavior Management Forms- from TeachervisionBookmark Calendar- 2011CalendarsClassroom Helpers- from ABC TeachClassroom Forms- very extensive listing includes passes, lesson plan, parent-teacher conference forms, behavior management formsClassroom Forms for 1st Grade- Mrs. Perkins' list includes ABC cut-out flash cards, calendars, 100s chartClassroom Management Forms- covers K-12Classroom Organization -templates for kindergarten, including book basket labels, center rules, large center signsClassroom Organizer Templates- miscellaneous items include monthly planning guide, syllabusClassroom Seating Chart- from Microsoft.comClass Set-up Tool- interactive program allows you to design your classroom; from ScholasticEducation World- parent-teacher communicationKeyboard Template- great for tech teachers Microsoft Templates Templates/Resources- covers elementary, middle and high school; nice size list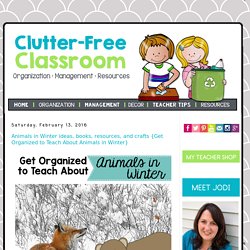 Let's be honest. You could easily fill all of your classroom storage space with math manipulatives. There are just so many cool, hands-on tools for kids to use to explore math concepts. But, since space is always an issue, today I am going to share tips and ideas for organizing and storing your math materials. According to the Common Core, students need to "use appropriate tools strategically." This means that your students need to be able to access materials independently.
Research any topic with an interactive concept map, that you can customize and share Innovative Features instaGrok's innovative features make learning much more fun and effective.
Elementary Resources
The Lesson Cloud