Symbols & staging / Symbolique et mise en scène
Anonymous - Message To Obama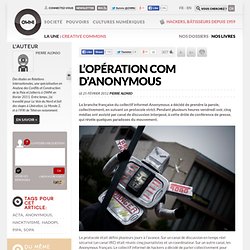 La branche française du collectif informel Anonymous a décidé de prendre la parole, collectivement, en suivant un protocole strict. Pendant plusieurs heures vendredi soir, cinq médias ont assisté par canal de discussion interposé, à cette drôle de conférence de presse, qui révèle quelques paradoxes du mouvement. Le protocole était défini plusieurs jours à l'avance. Sur un canal de discussion en temps réel sécurisé (un canal IRC) était réunis cinq journalistes et un coordinateur.
L'opération com d'Anonymous
Lorsque les Anonymous se décident à communiquer, c'est à leur façon, avec plus d'une centaine de membres. La conférence virtuelle s'est déroulée vendredi 24 février via un canal IRC. Cinq médias étaient les invités privilégiés de la conférence en ligne des Anonymous francophones: France Info, le Mouv', le Parisien, OWNI et la société Code 5 Productions.
Quand les Anonymous font de la communication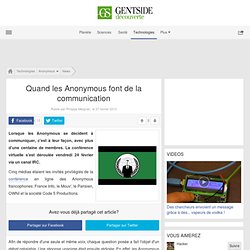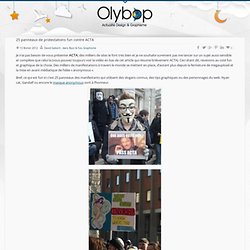 25 panneaux de protestations fun contre ACTA
Time traveling​ 25 panneaux de protestations fun contre ACTA David Gaborit , dans Buzz & Fun, Graphisme 0
Poster un commentaire Quelques règles à respecter pour poster un commentaire sur olybop.info : On reste courtois et poli envers les autres auteurs de commentaires. On fait attention à l'orthographe. Les navigateurs disposent d'un correcteur.
30 superbes photos de manifestations contre ACTA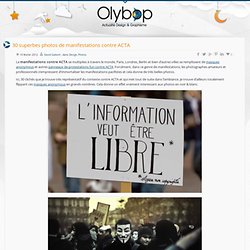 Anonymous Artists
Arkasia and Syrano - ANONYMOUS by Syrano on SoundCloud
www.youtube.com/v/cHZC9_OmXf4?version=3
Ganesh2 - Le petit Anonymous
We Are Legion: The Story of the Hacktivists
Les Anonymous seront présents au festival du film indépendant américain de Sundance 2012… grâce à un documentaire leur étant entièrement consacré. Découvrez le trailer. Le moins que l'on puisse dire est que le documentaire de Brian Knappenberger, We are Legion, the story of the Hacktivists, colle parfaitement à l'actualité de ces derniers jours. Présenté au festival du film de Sundance (du 19 au 29 janvier) cette semaine, il fait déjà parler de lui. Brian Knappenberger réalise ici un véritable tour de force en faisant témoigner certains membres du collectif à visage découvert, mais aussi en retraçant plusieurs de ses actions passées comme le « hack » du site Paypal et celui de l'Eglise de Scientologie en décembre 2010. Le réalisateur revient également sur l'aide dont ont pu bénéficier les internautes tunisiens lors des révolutions arabes.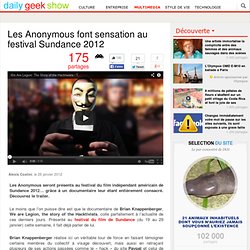 Les Anonymous font sensation au festival Sundance 2012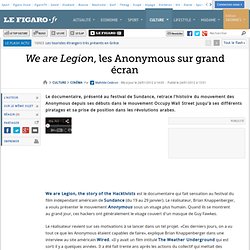 We are Legion, les Anonymous sur grand écran
Le documentaire, présenté au festival de Sundance, retrace l'histoire du mouvement des Anonymous depuis ses débuts dans le mouvement Occupy Wall Street jusqu'à ses différents piratages et sa prise de position dans les révolutions arabes. We are Legion, the story of the Hacktivists est le documentaire qui fait sensation au festival du film indépendant américain de Sundance (du 19 au 29 janvier). Le réalisateur, Brian Knappenberger, a voulu présenter le mouvement Anonymous sous un visage plus humain.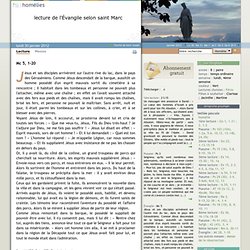 Jésus et ses disciples arrivèrent sur l'autre rive du lac, dans le pays des Géraséniens. Comme Jésus descendait de la barque, aussitôt un homme possédé d'un esprit mauvais sortit du cimetière à sa rencontre ; il habitait dans les tombeaux et personne ne pouvait plus l'attacher, même avec une chaîne ; en effet on l'avait souvent attaché avec des fers aux pieds et des chaînes, mais il avait rompu les chaînes, brisé les fers, et personne ne pouvait le maîtriser. Sans arrêt, nuit et jour, il était parmi les tombeaux et sur les collines, à crier, et à se blesser avec des pierres. Voyant Jésus de loin, il accourut, se prosterna devant lui et cria de toutes ses forces : « Que me veux-tu, Jésus, Fils du Dieu très-haut ? Je t'adjure par Dieu, ne me fais pas souffrir ! » Jésus lui disait en effet : « Esprit mauvais, sors de cet homme !
homelies.fr : "Je m'appelle Légion, car nous sommes beaucoup"
manifestoh.jpg (Image JPEG, 1182x692 pixels) - Redimensionnée (85%)
Anonymous - Project Mayhem
Fight Club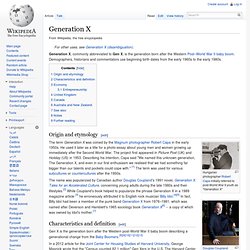 Generation X
Generation X, commonly abbreviated to Gen X, is the generation born after the Western Post–World War II baby boom. Demographers, historians and commentators use beginning birth dates from the early 1960s to the early 1980s. Origin and etymology[edit]
Terminology[edit] Authors William Strauss and Neil Howe wrote about the Millennials in Generations: The History of America's Future, 1584 to 2069,[2] and they released an entire book devoted to them, titled Millennials Rising: The Next Great Generation.[3] Strauss and Howe are "widely credited with naming the Millennials" according to journalist Bruce Horovitz.[1] In 1987 they coined the term "around the time 1982-born children were entering preschool and the media were first identifying their prospective link to the millennial year 2000".[4] Strauss and Howe use 1982 as the Millennials' starting birth year and 2004 as the last birth year.[5] The phrase Generation Y first appeared in an August 1993 Ad Age editorial to describe teenagers of the day, which they defined as different from Generation X, and then aged 11 or younger as well as the teenagers of the upcoming ten years.[6] Since then, the company has sometimes used 1982 as the starting birth year for this generation.[7]
Generation Y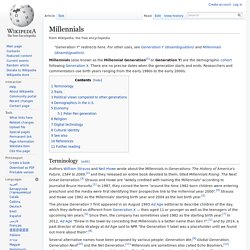 4chan is a simple image-based bulletin board where anyone can post comments and share images. There are boards dedicated to a variety of topics, from Japanese animation and culture to videogames, music, and photography. Users do not need to register an account before participating in the community.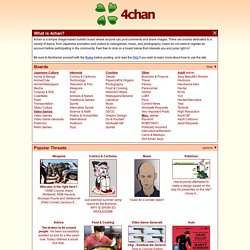 4chan
Tout comme les soirées à thème "Homme d'affaire et soubrette" s'étaient multipliées après l'affaire DSK, c'est désormais au tour d'Anonymous d'être récupéré par le monde de la nuit. Le phénomène est d'actualité, et désormais suffisamment connu pour fédérer, même en soirée. • Les opportunistes
Comment le monde de la nuit s'empare d'Anonymous
8th Wonderland
8th Wonderland
Guy Fawkes
Un article de Wikipédia, l'encyclopédie libre. Guy Fawkes était membre d'un groupe provincial catholique anglais qui a planifié la Conspiration des poudres de 1605. Fawkes est né et a étudié à York. Son père est mort alors qu'il n'avait que huit ans, sa mère épousa ensuite un catholique récusant.
Publication history[edit] When the publishers cancelled Warrior in 1985 (with two completed issues unpublished due to the cancellation), several companies attempted to convince Moore and Lloyd to let them publish and complete the story. In 1988, DC Comics published a ten-issue series that reprinted the Warrior stories in colour, then continued the series to completion. The first new material appeared in issue No. 7, which included the unpublished episodes that would have appeared in Warrior No. 27 and No. 28.
V for Vendetta
Trends: Guy Fawkes
Trends: V for Vendetta
Lorsque vous calculez le volume de recherche associé à un sujet donné (Tokyo – Capitale du Japon), nos algorithmes prennent en compte de nombreuses requêtes de recherche différentes susceptibles de se rapporter au même sujet (東京, Токио, Tokyyo, Tokkyo, Japan Capital, etc). Lorsque vous évaluez le volume de recherche associé à une requête (Tokyo – Terme de recherche), nos systèmes ne prennent en compte que les recherches incluant cette chaîne de texte ("Tokyo").
V pour Vendetta
Anonymous fait exploser les ventes de V Pour Vendetta
Alan Moore Fan Site
Alan Moore : une impressionnante biographie illustrée
Comment le masque des « Indignés » et des Anonymous enrichit la Warner
Fabriquez votre masque « ANONYMOUS »
about:blank
Anonymouse | Oulipo Sativa