Alliances
Adioso - the best flights to Anywhere in a single search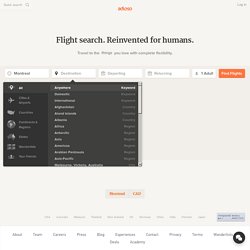 KeywordAnywhere KeywordDomestic KeywordInternational
Open Places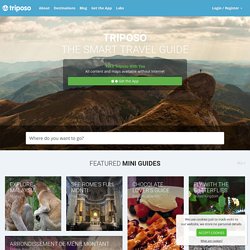 The Tripsers are on their way from Faro, Portugal to Seville, Spain! After a long day of driving and coding, food will surely be on the brain. Lucky for them, Seville as over 4,000 tapas restaurants.
Triposo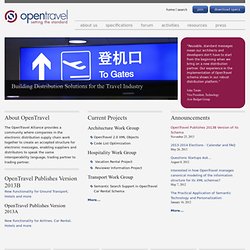 OpenTravel
About OpenTravel The OpenTravel Alliance provides a community where companies in the electronic distribution supply chain work together to create an accepted structure for electronic messages, enabling suppliers and distributors to speak the same interoperability language, trading partner to trading partner. OpenTravel Publishes Version 2013B OpenTravel Publishes Version 2013A Current Projects Architecture Work Group
Inicio
Matador Network | travel culture worldwide
Flextrip - The world's largest marketplace for Tours & Activities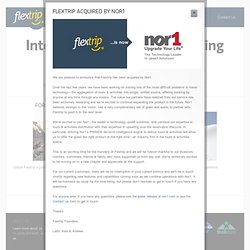 We are pleased to announce that Flextrip has been acquired by Nor1. Over the last few years, we have been working on solving one of the more difficult problems in travel technology—the aggregation of tours & activities into single, unified source, offering booking by anyone at any time through any means. The value our partners have realized from our service has been extremely rewarding and we're excited to continue expanding the product in the future. Nor1 believes strongly in this vision, has a very complimentary set of goals and wants to partner with Flextrip to push it to the next level.
Home - TrekkSoft
ECOCLUB.com - International Ecotourism Club: mutual aid network for ecological tourism
Copyright © 1999-2013 ECOCLUB S.A. All rights reserved. THE WORD "ECOCLUB" and THE ECOCLUB SIGN ARE REGISTERED TRADEMARKS OF ECOCLUB S.A., PO Box 65232, Psychico, Athens 154 10, Greece. The Companies and Individuals listed in ECOCLUB.com operate independently from ECOCLUB S.A. ECOCLUB S.A. DOES NOT ACCEPT RESPONSIBILITY FOR ANY DAMAGES RELATED TO VISITING A LODGE, GOING ON A TOUR, OR TRANSACTING WITH ANY COMPANY OR INDIVIDUAL LISTED ON THIS WEBSITE OR LINKED WEBSITES.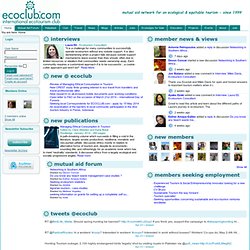 www.themosey.com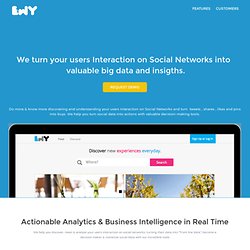 We help you discover, meet & analyze your users interaction on social networks, turning their data into "front line data", become a decision maker & monetize social data with our incredible tools Collect Information Our friendly API and UX – UI , will allow you to collect relevant data that you can customize into highly visual reports & analytics sorted by relevant variables and valuable insigths. Real Time Insights Our propietary algorithms help you gather valuable insights about your brand and Social interaction in Real Time providing you Business Intelligence in Demand.
EscapesWithYou
Ecuador Unplugged At Ecuador Unplugged our approach is simple. Utilizing real people to tell their stories and share their love of Ecuador with the world through our images and our adventures – bringing photography to life.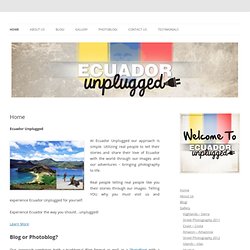 ecuadorunplugged.com - Ecuador Unplugged
GSTC - Promoting Sustainable Travel, Criteria and Certification
26 November 2013 WASHINGTON, D.C. / MADRID, Nov 26, 2013– The Global Sustainable Tourism Council (GSTC) and Sustainable Travel International today announced collaboration on an innovative platform for sustainable destinations worldwide. The new joint program includes networking opportunities through the GSTC's Destination Membership, and Sustainable Travel International's Sustainable Destination Leadership Network (SDLN).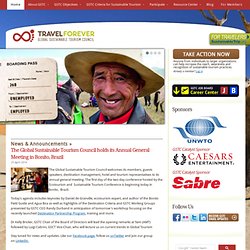 TravelGreen Homepage
Turismo Sudamérica – Hoteles, Atractivos y Restaurantes - Southvoyage.com
Project Eve - Entrepreneurship Women | Networking For Women | Freelance | Women-Owned Business
Contact Us - Jetsetter
Designer Fashion Flash Sales, Designer Fashions Online | Gilt Groupe
EmprendoVerde | La red de emprendedores y empresarios Verdes de Chile
Travel Insurance Online - Travel Safely with World Nomads
Best Hotels, Attractions, Reviews, and Travel Guides in the World
Clerk Hotel Management | Sistema hotelero
Leap Local -
BookingMarkets - Inicio
WHL Group
We provide top-tier marketing and public relations consulting to travel-related organizations including web sites, hotels, airlines, rental car companies, convention and visitors bureaus, travel agencies, tour operators and tourist attractions. Because we are a small company, we are able to provide the kind of personalized, hands-on service that large agencies can only dream of. We are passionate about getting the most out of every marketing dollar. We design marketing programs that are both effective and cost-effective. We help our clients in the following areas: Marketing Public Relations Editorial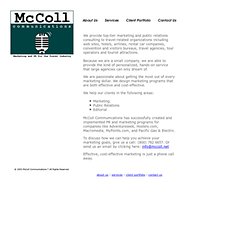 Communications - Marketing and PR for the Travel Industry
Ethical Traveler | Empowering Travelers to Change the World.
Triptrotting - Meet new friends and find awesome local activities