DEMOCRACY
Citizens Assembly Blog
Abril 07, 2014 Introducción: Cuba Hoy Fui a Cuba recientemente a visitar a mi padre anciano, no hice más que llegar a mi pueblo, y comencé a percibir un sentimiento doble que se fue acrecentando en la medida que pasaron los días, y que se mantiene fresco en mi memoria. En primer lugar, el cariño que me rodeó desde el primer momento, por parte de todos mis familiares, amigos, conocidos o no, vecinos o no, miembros de la comunidad católica, y de otras comunidades cristianas, inclusive personas que se autotitulan revolucionarios, conociendo que soy un exiliado, sin importar raza ni sexo. Al mismo tiempo,...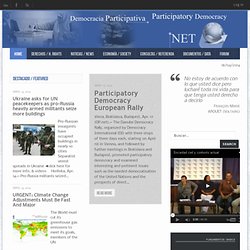 Related projects - Metagovernment - Government of, by, and for all the people
From Metagovernment - Government of, by, and for all the people Collaborative governance and related ideas of direct democracy through Web 2.0 technologies are rapidly emerging. As these concepts are explored, numerous groups are forming, each with various approaches.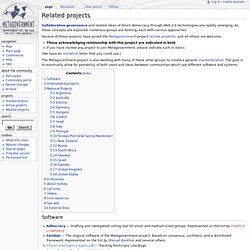 In a collaborative e-democracy every citizen participates in the policy process, either indirectly, by delegating proxy representatives to vote on their behalf within the different policy domains, or directly, by voting on a particular issue (green arrows). Collaborative e-democracy or super-democracy is a democratic conception that combines key features of direct democracy, representative democracy, and e-democracy (i.e. the use of ICTs for democratic processes). The concept was first published at two international academic conferences in 2009 (see below). While directly elected government officials (i.e.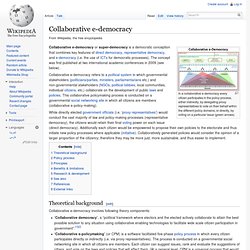 Collaborative e-democracy