Gardening
Organic Gardens: Organic treatment of yellow leaf on tomato plant, epsom salts, lack of magnesium. Raised garden beds: hugelkultur instead of irrigation. Raised garden bed hugelkultur after one month raised garden bed hugelkultur after one year raised garden bed hugelkultur after two years raised garden bed hugelkultur after twenty years hugelkultur raised garden beds in a nutshell: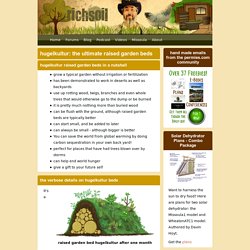 Compost - to pee or not to pee - Soil Forum. Regarding germs in the compost bin; I almost never wear gloves when I'm composting or gardening.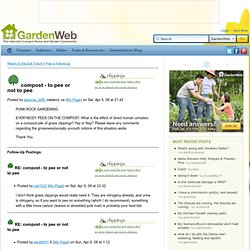 I never think to put them on. My hands go from garden soil with lots of compost, to compost bin, to working in the house doing sheetrocking, etc. I just don't get infections of any sort. Hormesis? Human urine as a safe, inexpensive fertilizer for food crops. Researchers in Finland are reporting successful use of an unlikely fertilizer for farm fields that is inexpensive, abundantly available, and undeniably organic -- human urine.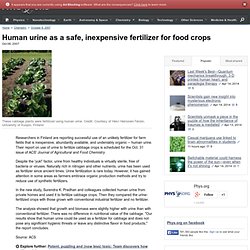 Their report on use of urine to fertilize cabbage crops is scheduled for the Oct. 31 issue of ACS' Journal of Agricultural and Food Chemistry. Despite the 'yuk!'
Local Farming
Videos. Supply. Irrigation. Fertilizer. Bio Fuel. Plant Care. Sprouting. Vegetarianism.
---