3.2 Collaboration Scope
WHAT. University/SME collaboration. Universities and research centres can help form so-called systems and networks of innovation.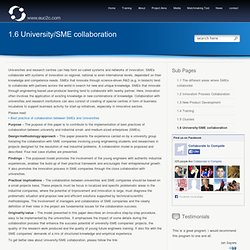 SMEs collaborate with systems of innovation on regional, national or even international levels, dependant on their knowledge and competence needs. SMEs that innovate through science-driven R&D (e.g. in biotech) tend to collaborate with partners across the world in search for new and unique knowledge. SMEs that innovate through engineering based user-producer learning tend to collaborate with nearby partner. Here, innovation often involves the application of existing knowledge or new combinations of knowledge. Collaboration with universities and research institutions can also consist of creating of special centres in form of business incubators to support business activity for start-up initiatives, especially in innovative sectors. WHY.
Why Collaborate. "Collaborate or die" An exaggeration?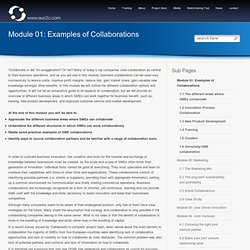 Or not? Many of today's top companies view collaboration as central to their business operations, and as you will see in this module, business collaboration can be used very successfully to reduce costs, improve profit margins, reduce risk, gain market share, gain valuable new knowledge amongst other benefits. In this module we will outline the different collaboration options and opportunities. Case Study - Cardiff University & Cogent Power. Benefits and barriers of collaboration. At the end of this module you will be able to: Have an understanding of the importance of collaborationUnderstand the possibility of gaining competitive advantageUnderstand the benefits and barriers to business collaborationHave some practical advises on how to overcome barriers to collaborate Business collaboration for Small and Medium Enterprises (SMEs) undoubtedly has a huge source of benefits helping to create a comparative advantage.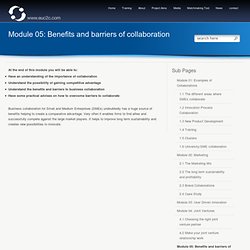 How to Reach Agreement. Consensus Building Handbook A Comprehensive Guide to Reaching Agreement. Over the past decade, consensus building has emerged as the most practical and effective way for groups of people — be they members of a permanent organization or disputants in a public conflict who come together on an ad hoc basis — to make decisions and solve problems.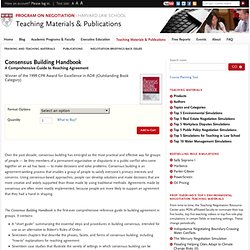 Consensus building is an agreement-seeking process that enables a group of people to satisfy everyone's primary interests and concerns. Using consensus-based approaches, people can develop solutions and make decisions that are more creative and widely supported than those made by using traditional methods. Setting Objectives. Writing SMART Goals and Objectives Webinar. Lambert Tool kit for Collaborative Research. The Lambert toolkit is for universities and companies that wish to undertake collaborative research projects with each other.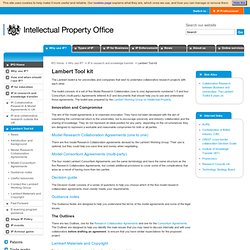 The toolkit consists of a set of five Model Research Collaboration (one to one) Agreements numbered 1-5 and four Consortium (multi-party) Agreements lettered A-D and documents that should help you to use and understand those agreements. The toolkit was prepared by the Lambert Working Group on Intellectual Property. Innovation and Compromise The aim of the model agreements is to maximise innovation. Model Research Collaboration Agreements. There are five model Research Collaboration Agreements, covering one to one projects each providing a different approach in the key area of who is to own, and have the right to exploit, the intellectual property in the results or outcome of the collaborative project.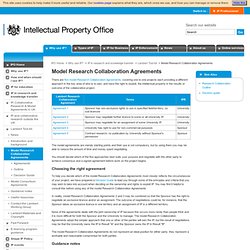 The model agreements are merely starting points and their use is not compulsory, but by using them you may be able to reduce the amount of time and money spent negotiating. You should decide which of the five approaches best suits your purpose and negotiate with the other party to achieve consensus and a signed agreement before work on the project begins. Model Research Collaboration Outline. This page is designed to assist you in identifying any major issues early in your discussions.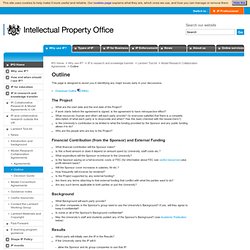 Download Outline (49Kb) The Project. Responsible Partnering Initiative and University-Business Collaborative Research. Europe's universities are increasingly developing partnerships in their research and innovation missions, embracing the "Open Innovation model" of university-business collaboration and seeking to embed this is in sound project management and improved intellectual property management that reflects respective interests.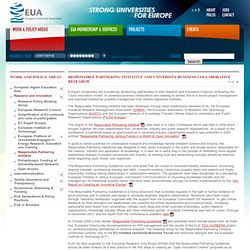 The Responsible Partnering Initiative has been developed through close collaboration between EUA, the European Industrial Research Management Association (EIRMA), the European Association of Research and Technology Organisations (EARTO) and the European Network of Knowledge Transfer Offices linked to Universities and Public Research Organisations (ProTon Europe). The origins of the Responsible Partnering Initiative date back to a major Conference which was held in 2004 which brought together the main stakeholders from universities, industry and public research organisations.
Www.eua.be/Libraries/Publications_homepage_list/Responsible_Partnering_Guidelines_09.sflb.ashx. University video case study working with an SME. SME video case study working with a HEI.
---