Summerhill School
Imagine a School....Summerhill. A. S. Neill's Summerhill School. Summerhill School - Wikipédia (PT) Origem: Wikipédia, a enciclopédia livre.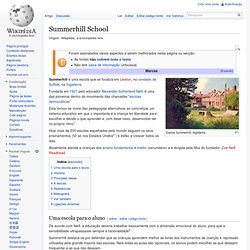 Escola Summerhill, Inglaterra. Summerhill é uma escola que se localiza em Leiston, no condado de Suffolk, na Inglaterra. Fundada em 1921 pelo educador Alexander Sutherland Neill, é uma das pioneiras dentro do movimento das chamadas "escolas democráticas". Esta tornou-se ícone das pedagogias alternativas ao concretizar um sistema educativo em que o importante é a criança ter liberdade para escolher e decidir o que aprender e, com base nisso, desenvolver-se no próprio ritmo1 .
Summerhill School - Wikipedia (UK) Summerhill School is an independent British boarding school that was founded in 1921 by Alexander Sutherland Neill with the belief that the school should be made to fit the child, rather than the other way around.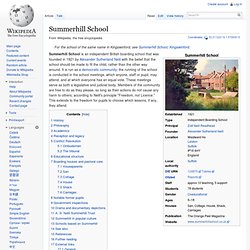 It is run as a democratic community; the running of the school is conducted in the school meetings, which anyone, staff or pupil, may attend, and at which everyone has an equal vote. These meetings serve as both a legislative and judicial body. Members of the community are free to do as they please, so long as their actions do not cause any harm to others, according to Neill's principle "Freedom, not Licence. "
Summerhill School, Kingswinford.
---