Qoutes
Random funny pictures. Famous Buddhist Quotes & Sayings. Albert-camus-freedom-quote.png (PNG Image, 350x517 pixels) Shakespeare Insults: A collection of quotes for you blocks, you stones, you worse than senseless things! Shakespeare's Insults You can tell by the hundreds of imaginative biting quips in Shakespeare's plays that the man adored a good insult.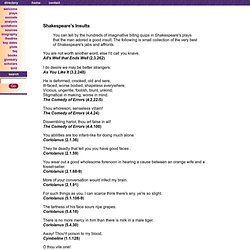 The following is small collection of the very best of Shakespeare's jabs and affronts. You are not worth another word, else I'd call you knave.All's Well that Ends Well (2.3.262) I do desire we may be better strangers.As You Like It (3.2.248) Collected Quotes from Albert Einstein. [Note: This list of Einstein quotes was being forwarded around the Internet in e-mail, so I decided to put it on my web page.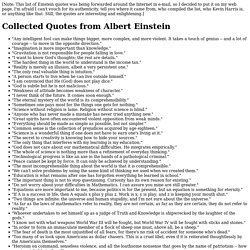 I'm afraid I can't vouch for its authenticity, tell you where it came from, who compiled the list, who Kevin Harris is, or anything like that. Still, the quotes are interesting and enlightening.] "Any intelligent fool can make things bigger, more complex, and more violent.
---