Street Style.
La Vagabond Dame
STYLE from TOKYO | street fashion based in japan
StreetStyleNews
PIMPUMPAM
Area: Harajuku,Tokyo | 原宿,東京 Name: Yuri Nakagawa | 中川友里 Occupation: Fashion girl's magazine model, Blogger | 読者モデル, ブロガー Jacket: LAMARCK Top: GALLERIE | ギャレリー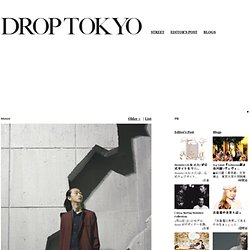 Style Copycat
About wardrobe_remix wardrobe_remix, a "DIY street fashion community," was created by tricia royal in september of 2005. "i believe the best stylists walk the streets, not the photo sets, nor the backstage of the runways. the real style innovators are you and me: real, fashionable people, men and women alike. how do *you* put it together? where did you get that item of clothing from?
wardrobe_remix