Stories of Stroke Survivors
Tesi and Gary, Artists After Stroke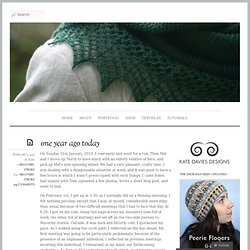 one year ago today | needled
This may seem rather sombre, but it is important to get it out of my system today. On Sunday 31st January, 2010, I rose early, and went for a run. Then Mel and I drove up North to have lunch with an elderly relative of hers, and pick up Mel's new spinning wheel. We had a very pleasant, crafty time.
what a lovely, candid personal stroke story. thanks so much for adding it out here. I've moved it into the 'Stories of Stroke Survivors' branch of our tree. much appreciation! by debranicity Mar 2
a compelling account of recovery after a stroke by gatheringwater Mar 1
Personal Stories of Children with Stroke
Stroke Before Age 50
Mycle Brandy
Jill Bolte Taylor
Home - Dr. Jill Bolte Taylor
Jill Bolte Taylor on Oprah's Soul Series Webcast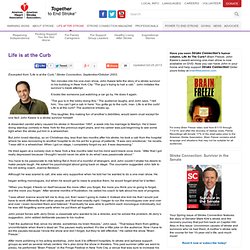 John Kawie
Excerpted from "Life is at the Curb," Stroke Connection, September/October 2003, Ten minutes into his one-man show, John Kawie tells the story of a stroke survivor in his building in New York City. "The guy's trying to hail a cab."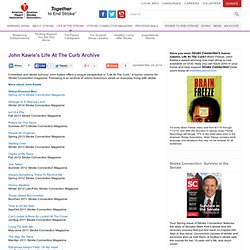 John Kawie's Life At The Curb Archive
Comedian and stroke survivor John Kawie offers a unique perspective in "Life At The Curb," a humor column for Stroke Connection magazine. Following is an archive of John's humorous views on everyday living with stroke. More about John Kawie Please Mr.
Brain Freeze‬‏
Brain Freeze