Starwars
Haha lol, i am your father.
Do Not Underestimate the Power of Fanart | What The Flux. To gear up for the Houston Symphony concert featuring music from Star Wars (and an excuse to have more geekiness for today), we've collected a series of fan made posters that are all about the Force — whether its the light side or the dark side.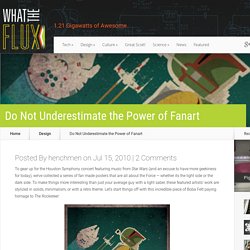 To make things more interesting than just your average guy with a light saber, these featured artists' work are stylized in solids, minimalism, or with a retro theme. Let's start things off with this incredible piece of Boba Fett paying homage to The Rocketeer: Naboo. Banksy_02.jpg (1128×740) I felt a great disturbance in the Force, as if millions of sperm suddenly cried out in terror. - CollegeHumor picture.
Stormtrooper-rip.jpg (838×518) Steampunk Star Wars: Pics, Videos, Links, News. Stormtrooper's life on photos - art pack. Keep in touch close Stormtrooper's life on photos – art pack Author: kiwee October 01, 2009 the soup Via Flickr Daily RoutineEpisode 1galleryLifephotosStar WarsStefanStormtroopers.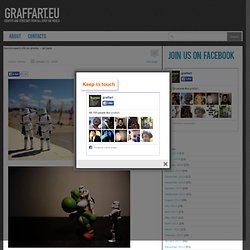 Darth Vader Mania. Things you should know about Darth Vader I guess there is no need in telling who Darth Vader is for everyone must have seen 6 movie saga of good guys fighting the dark side under infinite sky of stars.As per Wikipedia: "The influence character has had on the public psyche has extended far beyond mainstream television and film.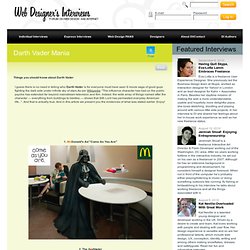 Indeed, the wide array of things named after the character — everything from buildings to beetles — shows that Sith Lord has permeated everyday American life... ". And that is actually true. And in this article we present you the evidences of what was stated earlier. UgUyI.png from humordistrict.com. Star Wars Pin-Up Girls Recruitment Posters [PICS] 23 Funny Star Wars T-Shirts That Even Darth Vader Would Laugh At | Funny T-Shirt Blog - TeeRater. It's been a couple of years since we first started this list of funny star wars t-shirts and it appeared on the internet to great fanfare.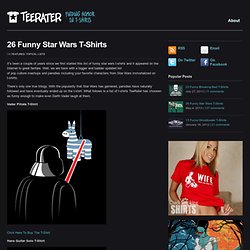 Well, we are back with a bigger and badder updated list of pop culture mashups and parodies including your favorite characters from Star Wars immortalized on t-shirts. There's only one true trilogy. With the popularity that Star Wars has garnered, parodies have naturally followed and have eventually ended up on the t-shirt. 224359792_db089172eb_b. C2Iup.jpg (1280×946) BobaFett.jpg (JPEG Image, 778x1056 pixels) - Scaled (80%) Star Wars.
---