Search engine marketing
Web analytics. Web analytics is not just a tool for measuring web traffic but can be used as a tool for business and market research, and to assess and improve the effectiveness of a web site.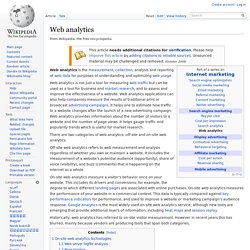 Web analytics applications can also help companies measure the results of traditional print or broadcast advertising campaigns. It helps one to estimate how traffic to a website changes after the launch of a new advertising campaign. Web analytics provides information about the number of visitors to a website and the number of page views. It helps gauge traffic and popularity trends which is useful for market research. Search analytics. Search analytics is the analysis and aggregation of search engine statistics for use in search engine marketing (SEM) and search engine optimization (SEO).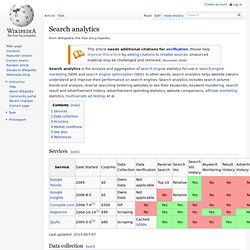 In other words, search analytics helps website owners understand and improve their performance on search engines. Search analytics includes search volume trends and analysis, reverse searching (entering websites to see their keywords), keyword monitoring, search result and advertisement history, advertisement spending statistics, website comparisons, affiliate marketing statistics, multivariate ad testing, et al. Cost per impression. Purpose[edit] Cost per impression, along with cost per click and cost per order, is used to assess the cost effectiveness and profitability of online advertising.[2] CPI is the closest online advertising strategy to those offered in other media such as television or print, which sell advertising based on estimated viewership or readership.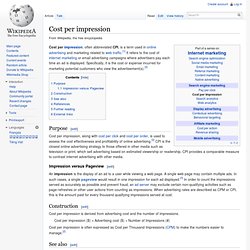 CPI provides a comparable measure to contrast internet advertising with other media. Impression versus Pageview[edit] An impression is the display of an ad to a user while viewing a web page. Pay per click. Pay per click (PPC) (also called cost per click) is an internet advertising model used to direct traffic to websites, in which advertisers pay the publisher (typically a website owner) when the ad is clicked.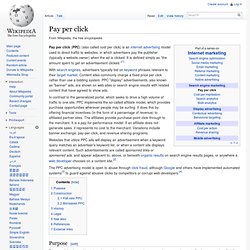 It is defined simply as "the amount spent to get an advertisement clicked."[1] In contrast to the generalized portal, which seeks to drive a high volume of traffic to one site, PPC implements the so-called affiliate model, which provides purchase opportunities wherever people may be surfing. It does this by offering financial incentives (in the form of a percentage of revenue) to affiliated partner sites. The affiliates provide purchase-point click-through to the merchant. Search engine marketing.
Search engine marketing (SEM) is a form of Internet marketing that involves the promotion of websites by increasing their visibility in search engine results pages (SERPs) through optimization and advertising.[1] SEM may use search engine optimization (SEO), that adjusts or rewrites website content to achieve a higher ranking in search engine results pages or use pay per click listings.[2] Market[edit] In 2012, North American advertisers spent US$19.51 billion on search engine marketing.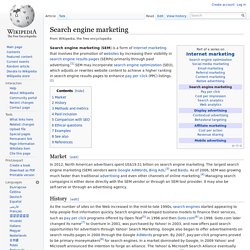 The largest search engine marketing (SEM) vendors were Google AdWords, Bing Ads,[3] Baidu.
---