Staff training
this pearl collects useful resources to share with tutors as part of their CPD. teresamac Aug 4
in Education Professional Development Guide [PUBLIC]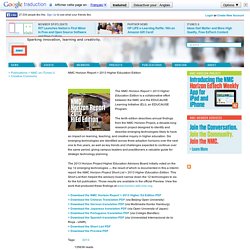 Horizon Report > 2013 Higher Education Edition
Login or Create New Account NMC News Make Your Story Part of the NMC's 20th Anniversary Celebration NMC Blog Data Mining: The Road to Employment?
Tools That College Students Wish Their Instructors Used Either More or Less – UW Bothell Learning Technologies Blog
Google Docs is such an incredible tool for college students, offering collaboration, portability, ease of use, and widespread acceptance – a must for students in online colleges for online marketing , for instance. But there are so many options, both hidden and obvious, that there's a good chance you're not using Google Docs to its fullest capability. We've discovered 52 great tips for getting the most out of Google Docs as a student , with awesome ideas and tricks for collaboration, sharing, and staying productive. Access your documents from anywhere : Whether you're in your dorm room or the school library, you can access your Google Docs.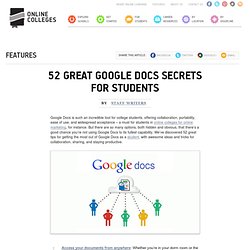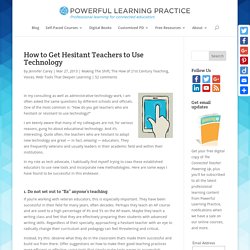 In my consulting as well as administrative technology work, I am often asked the same questions by different schools and officials. One of the most common is: "How do you get teachers who are hesitant or resistant to use technology?" I am keenly aware that many of my colleagues are not, for various reasons, gung ho about educational technology.
22 Ways To Use Twitter With Bloom's Taxonomy | E-TeachUK
LW 2013 Presentation - Petite Pipelette's Posterous
Tech Czech » "Why didn't anyone tell me about this?": What every learning technologist should know about accessible documents #ALTC2012
I gave this presentation at the ALT Conference 2012 in Manchester . Presentation Download presentation from Slideshare .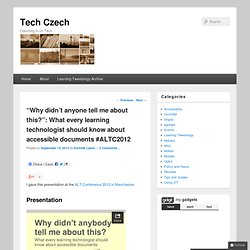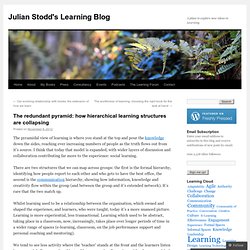 The redundant pyramid: how hierarchical learning structures are collapsing | Julian Stodd's Learning Blog
The pyramidal view of learning is where you stand at the top and pour the knowledge down the sides, reaching ever increasing numbers of people as the truth flows out from it's source. I think that today that model is expanded, with wider layers of discussion and collaboration contributing far more to the experience: social learning. There are two structures that we can map across groups: the first is the formal hierarchy, identifying how people report to each other and who gets to have the best office, the second is the communication hierarchy, showing how information, knowledge and creativity flow within the group (and between the group and it's extended network).
Leadership | In Print 7 Habits of Highly Effective Tech-leading Principals By Jennifer Demski 06/07/12 Patrick Larkin, principal of Burlington High School in Burlington, MA, started a 1-to-1 iPad initiative in the fall of 2012.
7 Habits of Highly Effective Tech-leading Principals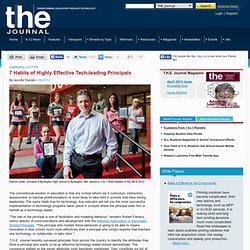 August 7, 2012 by tomwhitby For educators who have been connected since the early days of social media, it is difficult to understand the reason people would ask, "What is #Edchat?" We must remember that many educators using social media for professional reasons have joined only recently.
How Does #Edchat Connect Educators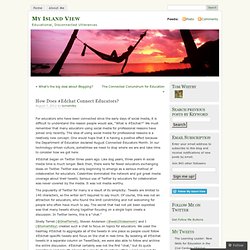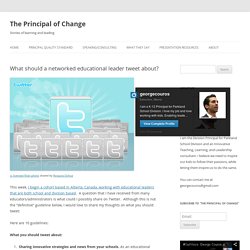 cc licensed flickr photo shared by Rosaura Ochoa This week, I begin a cohort based in Alberta, Canada, working with educational leaders that are both school and division based . A question that I have received from many educators/administrators is what could I possibly share on Twitter. Although this is not the "definitive" guideline below, I would love to share my thoughts on what you should tweet: Here are 10 guidelines:
How to Create a Learning Culture in Organizations
Several excellent blog posts have recently come to my attention that, when combined, provide a how-to for creating a learning culture in organizations. One of these posts appears in Jane Hart's blog, Learning in the Social Workplace . In this post , she writes that workplace learning is: Structured learning experiences (e.g., training) and informal learning experiences (e.g., communities of practice) Helping workers learn continuously on the job Peer-to-peer learning that is " lite on content and rich in interaction" An integral part of everything that is done in the organization, supported by technology and social networks Managed by learning professionals who facilitate both formal and informal learning experiences
Listening strategies: Active listening | Hacking Chinese - 揭密中文
In previous articles we have already looked at two kinds of passive listening (the first article was about background listening , the second about passive listening in general ). Now, the time has come to look at active listening, which is what I think at least traditionally is what people mean when they say that they're practising listening ability. Active listening simply means that you actively engage all your faculties to try to understand and process the language you hear. To make sure that the processing is as complete as possible, we typically perform some activity which is not listening in itself, such as answering questions about the audio we just heard, taking notes while listening or translating the sentences we heard. In this article, I will do two things.