TERRE
More useful dog tricks. What snake venom does to blood. Watch from 00:50 till end: One super fast horse. A rare Sumatran rhino. The beautiful Friesian horse. Dogs 101: Beagle. Compilation: Maru turns four-years-old. Magic meerkat moments. Sensational dancing horse. Inside every good dog is a great dog. Dog can dance salsa. A spider that turns into a "wheel" and cartwheels away when it's in danger.
Lethal wetness. Feeding a massive kangaroo. Just some tigers at the Out of Africa Wildlife Park. Cat jumps to unbelievable heights. Spider Love Cocaine. Le saut d'un chat en Slow Motion. Gorillas... 98.6% Human. Grizzly bears catching salmon. 319539_o.gif (320×180) If you're having a bad day, then this dog video is for you. Boxer dogs refuse to go to sleep. Boxer dog's morning ritual. Jealous alpha male monkey "attacks" man. Masters of disguise: The gecko that resembles a leaf and nature's other camouflage experts.
By Wil Longbottom Updated: 07:29 GMT, 8 December 2011 Stare at these pictures for long enough and you might just spot some clever creatures playing the ultimate game of hide and seek.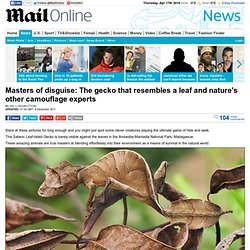 This Satanic Leaf-tailed Gecko is barely visible against the leaves in the Andasibe-Mantadia National Park, Madagascar. QUADRI PED etc... Touched by a Wild Mountain Gorilla (small version) Oours Mimétisme. Upload Facebook/Insensis Subscription preferences Loading...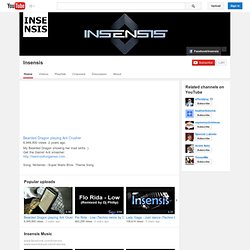 Working... Hamster Drag Racing!!! How Animals Learn Language. Bearded Dragon playing Ant Crusher. Grenouille Jeu Vidéo. Three cheetahs spare tiny antelope's life... and play with him instead. By Daily Mail Reporter UPDATED: 19:36 GMT, 5 February 2010 Hello little antelope, would you like to play with us?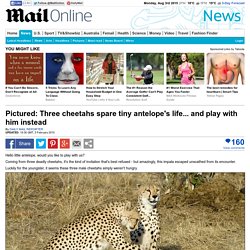 Coming from three deadly cheetahs, it's the kind of invitation that's best refused - but amazingly, this impala escaped unscathed from its encounter. Luckily for the youngster, it seems these three male cheetahs simply weren't hungry. Newborn deer. Tickling Slow Loris. Yellow Lab rescued from icy river. Bath time for baby sloths. He who greets with fire.. Mother elephant rescues stuck baby. How to get primate photos at the zoo.
---