Video Game Websites
Video Games, Cheats, Walkthroughs, Game Trailers, Reviews, News, Previews & Videos at IGN
Video Games, Video Game Reviews - GameSpot
Video Game Cheats, Reviews, FAQs, Message Boards, and More
Since we've relaunched GameTrailers.com, some of the pages you have gotten used to over the years may have changed. To help find what you're looking for, take a look at our sitemap! Need Help?Head over to our FAQ page! Publishers/DevelopersIf you have questions about the site or a piece of media that you would like included on gametrailers.com, we would love to hear from you.
Video Game Trailers for Wii, Vita, Xbox, PS3 & More | Upcoming Video Games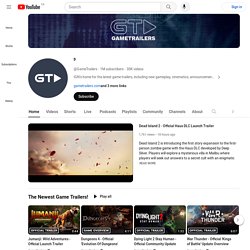 Kotaku, the Gamer's Guide
Video Game Cheats, Codes, Cheat Codes, Walkthroughs, Guides, FAQs, Reviews, Previews, News, Videos for Xbox 360, PS3, Wii, PC, PS2, 3DS, PS Vita, PSP, DS, Xbox, GameCube, GBA, and more from Cheat Code Central.
Video Games, Cheats, Guides, Codes, Reviews
1UP.com: Video Game Reviews, Cheats, and More
GameSpy: PC Games, Reviews, News, Previews, Demos, Mods & Patches
Outstanding: StarCraft Universe Launches By Taylor Cocke | PC News | Feb 19, 2013 10:22 AM | 10 Comments Remember World of StarCraft? How about StarCraft Universe? If you remember one of those, you remember them both, because they're the same game, just renamed after some legal disputes with Blizzard.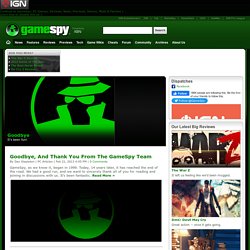 Joystiq
Nintendo severely adjusted its forecasts for the fiscal year ending March 31, 2014, almost halving its original net sales projection and reducing expected Wii U shipments from 9 million to 2.8 million. The Japanese company noted the Wii U's "significantly lower" than predicted overseas sales, as well as the price cuts made worldwide to the console, as factors in the profit revisions. Below-target 3DS sales overseas were also noted, as was increased expenditure on research and development. Nintendo's net sales projection dropped from ¥920 billion to ¥590 billion, which converts as $8.8 billion to $5.6 billion, respectively.
Gaming News | Game Reviews | Game Videos | Downloads |Mods | FileFront
GiantBomb.com ~ Video Game Reviews, News, Videos & Forums
TV News - Best New Movies, Video Games & Hot Girls | UGO
Destructoid: For Gamers. By Gamers. *
The Escapist