!Don't spam masspearls! PLZ !Read editorial!
PLZ, NO message SPAM 2 pearls of:

- Facebook
- Google
- Stumbleupon
- Twitter
- Youtube
... (others will be added)

Join this Team if you agree and you will be added.
After that, please add others for yourself!!!

THX 2 all :) schenz Feb 6
Fight Spam on the Internet!
Information about spam
Tips and help for regular users
Fight Spam with Anti-spam Software for Exchange Server, now try it for 30days for FREE! Check out the sections below for tips and tools.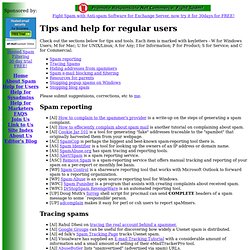 Spam – Antivirus - Identity Theft - Scams and Fraud: STOP IT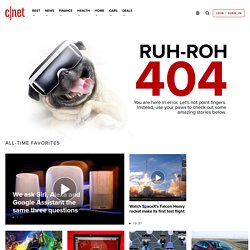 Microsoft is listed fifth in the Top 10 list of the worst spam service ISPs compiled by Spamhaus.org.
Microsoft ranked fifth worst spam service ISP | Security
Origin of the term "spam" to mean net abuse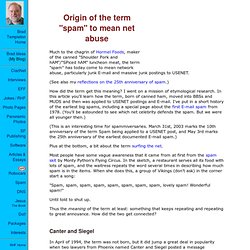 Much to the chagrin of Hormel Foods, maker of the canned "Shoulder Pork and hAM"/"SPiced hAM" luncheon meat, the term "spam" has today come to mean network abuse, particularly junk E-mail and massive junk postings to USENET. (See also my reflections on the 25th anniversary of spam.) How did the term get this meaning?
SPAM REVIEW
Cybertelecom :: SPAM
Scotch Spam: Make the spammers pay!
I receive spam emails from my own email address - AOL Help
Fight Spam! Free anti-spam services, tools and software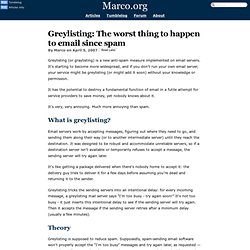 Greylisting (or graylisting) is a new anti-spam measure implemented on email servers. It's starting to become more widespread, and if you don't run your own email server, your service might be greylisting (or might add it soon) without your knowledge or permission.
Greylisting: The worst thing to happen to email since spam
Spam | 75 years
Spam
An email box folder littered with spam messages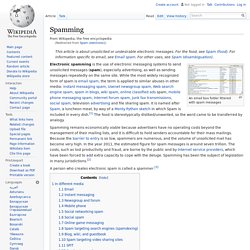 Spam (electronic)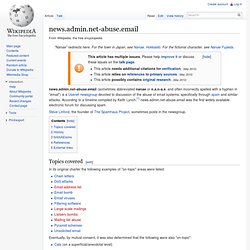 news.admin.net-abuse.email (sometimes abbreviated nanae or n.a.n-a.e, and often incorrectly spelled with a hyphen in "email") is a Usenet newsgroup devoted to discussion of the abuse of email systems, specifically through spam and similar attacks. According to a timeline compiled by Keith Lynch,[1] news.admin.net-abuse.email was the first widely available electronic forum for discussing spam.
news.admin.net-abuse.email