Réseaux socionumériques scientifiques (rsns)
CUNY Academic Commons | Home
www.academiaconnect.org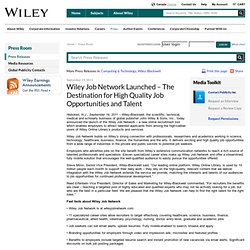 Hoboken, N.J., September 19, 2011 – Wiley-Blackwell, the scientific, technical, medical and scholarly business of global publisher John Wiley & Sons, Inc., today announced the launch of the Wiley Job Network – a new online recruitment tool which enables employers to attract talented applicants from among the high-caliber users of Wiley Online Library's products and services. Wiley Job Network builds on Wiley's strong connection with professionals, researchers and academics working in science, technology, healthcare, business, finance, the humanities and the arts. It delivers exciting and high quality job opportunities from a wide range of industries in the private and public sectors to potential job seekers. Employers who advertise jobs on the site benefit from Wiley's extensive communication networks to reach a rich source of talented professionals and specialists.
Wiley Job Network Launched – The Destination for High Quality Job Opportunities and Talent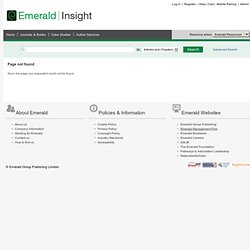 Join a worldwide research community Do you want to get to know researchers in your field from all over the world? Do you need to find collaborative research partners? Would you like to showcase your work and have like-minded professionals contact you? Emerald Research Connections is an online meeting place for the academic and corporate research communities, providing the opportunity for researchers to present their own work and interests, and find others to participate in future projects or simply share ideas.
Research Zone | Emerald Research Connections
Lalisio - The International Knowledge Network
LabRoots - is a social networking site for the scientific community.
DOCTEO
Digital Researcher - www.vitae.ac.uk/researchers
Vitae in partnership with The British Library has run Digital Researcher for the past 3 years. An innovative, thought-provoking one day event, Digital Researcher aims to help researchers make the most of new technologies and social media tools in their research. Designed for both postgraduate researchers and research staff within any UK institution, this interactive event was held at the British Library on Monday 20th February 2012, and provided an opportunity for researchers to think about how they undertake research and to consider whether new technologies could improve their research.
Graduate Junction - The Postgraduate Community
Appleseed aims to create an open source, fully distributed and decentralized social networking software. Appleseed is still in active development. When it's done, you'll be able to pick an Appleseed compatible site, sign up, connect with friends, send messages, share photos and videos and join discussions. And if you decide you don't like the site you're on, you can sign up for another Appleseed compatible site and immediately reconnect with everyone in your network. The site you choose can be personalized to meet your interests and communities. Anyone can download the software, install it on any web server, and plug their site into the Appleseed network. If you're an developer, designer, or writer, you can help contribute to the project. by emma.b Nov 13