Visual_Analytics
01_IL_DesignNewReality_2_0.jpg 1,587×2,619 pixels
Open-source Weave liberates data for journalists, citizens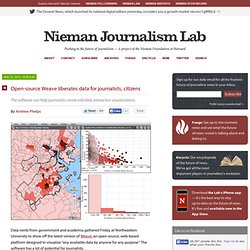 Data nerds from government and academia gathered Friday at Northeastern University to show off the latest version of Weave, an open-source, web-based platform designed to visualize "any available data by anyone for any purpose."
Fascinating New Visualization From Yahoo!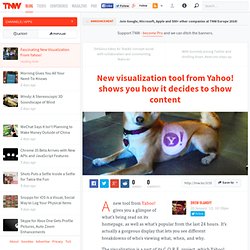 A new tool from Yahoo! gives you a glimpse of what's being read on its homepage, as well as what's popular from the last 24 hours. It's actually a gorgeous display that lets you see different breakdowns of who's viewing what, when, and why.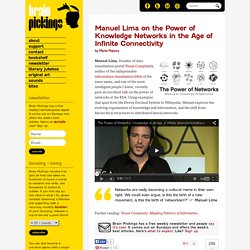 Manuel Lima on the Power of Knowledge Networks in the Age of Infinite Connectivity
by Maria Popova Manuel Lima, founder of data visualization portal Visual Complexity, author of the indispensable information visualization bible of the same name, and one of the most intelligent people I know, recently gave an excellent talk on the power of networks at the RSA. Using examples that span from the Dewey Decimal System to Wikipedia, Manuel explores the evolving organization of knowledge and information, and the shift from hierarchical structures to distributed lateral networks.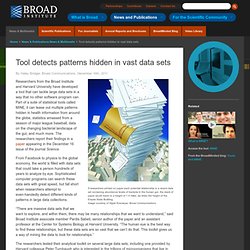 Tool detects patterns hidden in vast data sets
Researchers from the Broad Institute and Harvard University have developed a tool that can tackle large data sets in a way that no other software program can. Part of a suite of statistical tools called MINE, it can tease out multiple patterns hidden in health information from around the globe, statistics amassed from a season of major league baseball, data on the changing bacterial landscape of the gut, and much more. The researchers report their findings in a paper appearing in the December 16 issue of the journal Science.
by Maria Popova What the anatomy of your tongue has to do with ship flags and the evolution of human communication.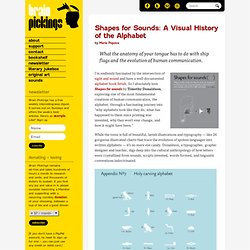 Shapes for Sounds: A Visual History of the Alphabet
Visualization: The Spread of Dance Music
by Maria Popova
Stefanie Posavec on Her Obsessive Analog Data Visualization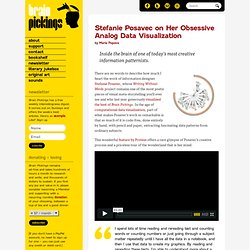 This visualization explores the ups and downs of the Bible narrative, using sentiment analysis to quantify when positive and negative events are happening: Full size download (.png, 4000×4000 pixels).
Applying Sentiment Analysis to the Bible « OpenBible.info Blog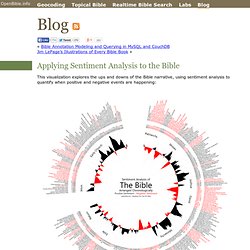 THE NEW YORK TIMES just ran an interesting article titled 'It's All Connected: A Spectator's Guide to the Euro Crisis' and the intro ending with 'The graphic here helps you see the intertwined complexities.' They also ran an interactive visualization online with the same title, but with the intro ending in 'Here is a visual guide to the crisis'. Pretty much the same stuff – except that I challenge you to understand and gain insight from the online-version: See it here: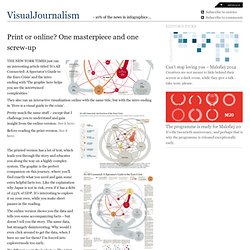 Print or online? One masterpiece and one screw-up – VisualJournalism