Gov2.0
Twitter hands over Occupy protester's tweets | Internet & Media. Twitter caved to a court order and handed over the tweets of an Occupy Wall Street protester rather than face a stiff fine.
Twitter reportedly surrendered to Manhattan Criminal Court Judge Matthew Sciarrino tweets sent out last year by protester Malcolm Harris. Twitter had long resisted a prosecution subpoena demanding the data. Reuters was first to report on the news. Harris was arrested during an October Occupy Wall Street protest on the Brooklyn Bridge. How Cops Use Social Media, SMS to Fight Crime. A limited study of 50 convicted burglars in the U.K. reveals what most of us knew already: if you tweet or post a Facebook status about your vacation in Cancun, a criminal in your hometown may target your house for a break-in.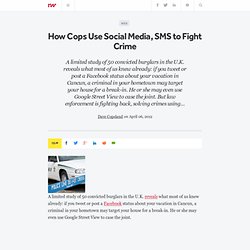 He or she may even use Google Street View to case the joint. But law enforcement is fighting back, solving crimes using the same social media that makes it easy for people to become victims. The Boston Globe reports in today's editions that the Boston Police Department has had "amazing" results with its use of social media and its Text-A-Tip campaigns. One of the biggest lessons for cops on social media? Try not to sound like cops. 7 Ways Universities Are Using Facebook as a Marketing Tool. Social media use by universities has become ubiquitous.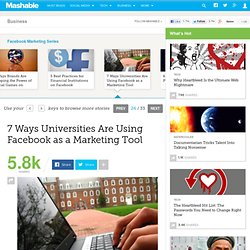 When earlier this year, researchers from the University of Massachusetts at Dartmouth asked a representative sample of U.S. schools whether they use some social media, 100% of them said they did. Four years ago, just 61% of them said the same. Facebook is the most prevalent social media tool in higher education — 98% of the universities in the study said they had a presence there. "Prospective students, parents, current students, alumni — one common area in which they are all present in one way or another is on Facebook," says Kevin Morrow, the executive director of public affairs at Syracuse University.
Hoo-ah: How the US Army Has Become a Social Media Leader. Over the past several years, the US Army has developed an exemplary program in exploiting numerous social media methods, and done so without a lot of flash, expense, or personnel.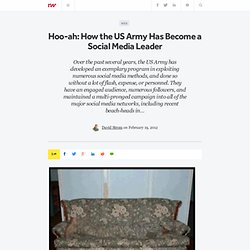 They have an engaged audience, numerous followers, and maintained a multi-pronged campaign into all of the major social media networks, including recent beach-heads in Pinterest and Google+. All this, and with a five-person team based in the Pentagon and without spending much in the way of budget too. They are a worthy case study for organizations that are trying to make their own assaults on social media and haven't been as effective. Just look at this slide showing the numbers. Croatia's iSTUDIO wants to revolutionize the way we monitor social media. A few years back, Facebook was just a procrastination tool where people would spend their whole days logged in and buying friends on Friends for Sale.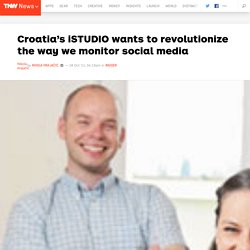 Not that it's much different from today, but if you wanted to open a social media agency specialized in fan page management back then, people would say that you've lost your mind. Especially in Croatia. Why the Geeks are Ruining Politics. U.S. Appoints New Chief Technology Officer. President Obama has appointed Todd Park as the new U.S.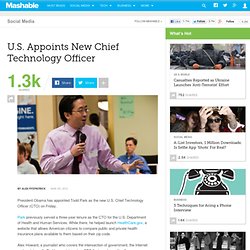 Chief Technology Officer (CTO) on Friday. Park previously served a three-year tenure as the CTO for the U.S. How To Unite Nations With Social Media. The United Nations is a huge organization: 193 member states and six major organs.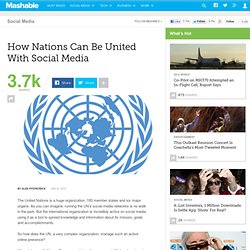 As you can imagine, running the UN's social media networks is no walk in the park. But the international organization is incredibly active on social media, using it as a tool to spread knowledge and information about its mission, goals and accomplishments. So how does the UN, a very complex organization, manage such an active online presence? Sweden Lets Citizens Run Its Twitter account. With Twitter now a well-established as part of the Internet landscape, it's increasingly difficult to make a splash with a truly innovative marketing campaign using the service.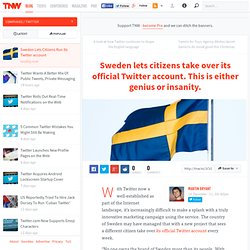 The country of Sweden may have managed that with a new project that sees a different citizen take over its official Twitter account every week. "No one owns the brand of Sweden more than its people. Municipal Wi-Fi: Let them browse while they eat cake. SINCE Wi-Fi's birth over a decade ago in a forgotten corner of the radio spectrum many municipalities have tried to create city-wide networks for public use.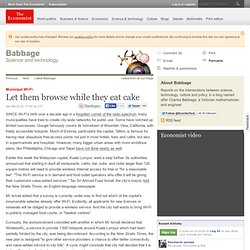 Some have notched up limited successes. Google famously covers its hometown of Mountain View, California, with freely accessible hotspots. Much of Estonia, particularly the capital, Tallinn, is famous for having near ubiquitous free-access points not just in most hotels, bars and cafés, but also in supermarkets and hospitals. However, many bigger urban areas with more ambitious plans, like Philadelphia, Chicago and Taipei have not done nearly as well. The Diplomat. What Social Media Users Think of U.S. Politics. Two-thirds (67%) of adult social media users in the U.S. voted for Barack Obama in the 2008 presidential race, although only half (51%) would vote the same way if they knew what they know now.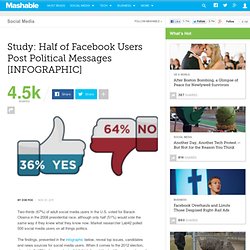 Market researcher Lab42 polled 500 social media users on all things politics. The findings, presented in the infographic below, reveal top issues, candidates and news sources for social media users. Why Uncle Sam might be ready for Hadoop in the cloud — Cloud Computing News. How Political Campaigns Can Turn Social Media Support Into Votes. During the last presidential election, the use of social media in political campaigns was revolutionized. The Obama campaign gathered followers through Facebook, YouTube and Twitter. Today, all candidates have learned the organizing power of social media. However, a "Like" on Facebook, a YouTube view or a re-blog on Tumblr may not directly affect the ballot box. The Supreme Court, big data and 1984 — Cloud Computing News. The CIA Open Source Center Tracks the Pulse of the World Through Facebook & Twitter. The U.S. Central Intelligence Agency has a crack group of analysts tracking the Internet, including tweets and Facebook messages, that takes the pulse of the world.
Located in McLean, Virginia analysts at the CIA Open Source Center are known as the "vengeful librarians" according to a report from the Associated Press. These librarians are tracking up to five million tweets a day from places like China, Pakistan and Egypt. It is sometimes disconcerting to know what the U.S. intelligence complex is doing, right in your backyard. Social Media: The Three Big Myths.
Today, Facebook has more than half a billion active users; Twitter users send more than 140 million tweets per day; and other social media outlets boast millions more logging in every day. That's an enormous marketing forum, and organizations of all types have invested a fortune into using social media to acquire customers. But does that approach actually work? Not in the way you might think. The CIA Open Source Center Tracks the Pulse of the World Through Facebook & Twitter. Can Facebook lower unemployment. How digital media will affect the 2012 Presidential Election (infographic)
The debates are rolling out and rumbles of the 2012 Presidential Election are growing into much bigger conversations. But where are those conversations occurring? "JFK is considered the first television President. Next year's victor may well be determined by the impact of Facebook and Twitter," said Jordan Bitterman, a Digitas senior vice president, in a statement. According to a study by Digitas, 63 percent of social media users expect candidates to have a social media presence. On top of that, 88 percent of social media users who are also registered voters have mobile phones.
Track political tweets with PolitickerUSA. 17 November '11, 11:42pm Follow Following politicians on Twitter can be as boring as watching paint dry on some days, but a new app pulls together tweets from both parties, and shows a whole host of trends about what they're tweeting about. PolitickerUSA is a simple app that displays tweets from every politician that uses the Twitter platform. At the very least, the service is the best social list of every U.S. Senator and Representative on the web. Open Government.
Britain unleashes gov.uk, its Google for government.
---