Blogs
One Reason It Is Tough To Pass Progressive Legislation Dylan Matthews, blogging in the Washington Post, discusses a very interesting paper that provides evidence showing that politicians seriously underestimate the progressivity of their constituents. David Broockman and Christopher Skovron, the authors of the paper, "surveyed every candidate for state legislative office in the United States in 2012 [shortly before the November election] and probed candidates' own positions and their perceptions of their constituents' positions on universal health care, same-sex marriage, and federal welfare programs, three of the most publicly salient issues in both national-level and state-level American politics during the past several years." They then matched the results with estimates of the actual district- and issue-specific opinions of those residing in the candidates' districts using a data set of almost 100,000 Americans. Here is what they found:
Reports from the Economic Front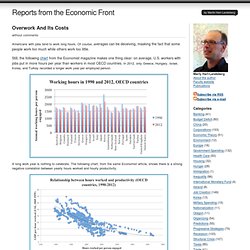 Sociology and the Cuts
Ethnography.com
Ballots & Bullets | School of Politics & International Relations, University of Nottingham
The Public Intellectual
British Politics and Policy at LSE | LSE experts analyse and debate recent developments across UK government
Mar 29 2013 Immigration, Inconsistencies and Privatisation: Top 5 blogs you might have missed this week Credit: World Economic Forum (CC) Isabel Hardman observes that there is a gap between what Conservative backbenchers want on immigration and what the Prime Minister is able to give them . Sunny Hundal points out glaring inconsistencies in immigration figures being quoted by ministers . James Bloodworth argues that we have clear data which shows that claims about economic 'scroungers' are simply inaccurate .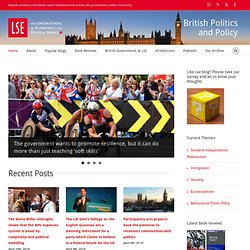 Public Reason · a blog for political philosophers
The Virtual Stoa
The Socio-Political Observer
Pileus
In Medias Res
normblog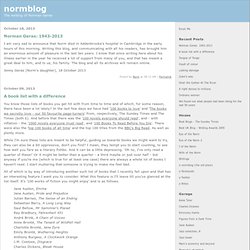 Patrice Hannon is the author of Dear Jane Austen: A Heroine's Guide to Life and Love and 101 Things You Didn't Know About Jane Austen . She has also just completed a novel and hopes to have news about its publication soon. In this post Patrice discusses J.R.R. Tolkien's The Lord of the Rings . Patrice Hannon on The Lord of the Rings by J.R.R. Tolkien
Source: CDC This week, great news emerged out of Mississippi: an infant, previously infected with HIV, has been cured of the virus. This development indicates promise for the future. We have now entered an era with the possibility of curing a once incurable disease.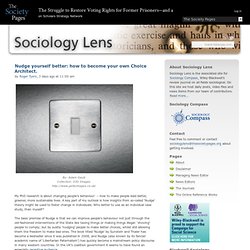 Sociology Lens » news. resources. commentary.
Zombies in the Academy
Critical Hermeneutics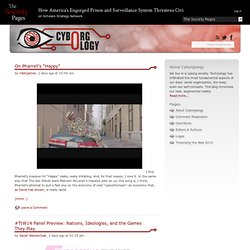 The Promise of Praxis by davidbanks , 3 days ago at 09:32 am "The primacy of contemplation over activity rests on the conviction that no work of human hands can equal in beauty and truth the physical kosmos, which swings in itself in changeless eternity without nay interference or assistance from outside, from man or god." –Hannah Arendt in The Human Condition
The Machine Starts
politicsmatter
Family Inequality
Replicated Typo
Anthropology in Practice
Careers – in Theory
March 5th, 2013 Prayer, imagination, and the voice of God—in global perspective posted by Steven Barrie-Anthony
Permutations
1 April 2013 App Stats: Killewald on "His Gain, Her Pain? The Motherhood Penalty and the Fatherhood Premium within Coresidential Couples" We hope you can join us this Wednesday, April 3, 2013 for the Applied Statistics Workshop . Sasha Killewald , Assistant Professor of Sociology at Harvard University, will give a presentation entitled "His Gain, Her Pain? The Motherhood Penalty and the Fatherhood Premium within Coresidential Couples".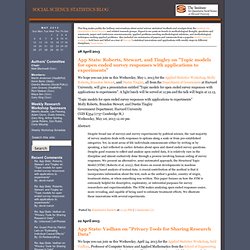 Social Science Statistics Blog
scatterplot
About ethnography, research & insight
Michael Roberts Blog
Socialist Economic Bulletin
By Karen Sternheimer C. Wright Mills famously described how "personal troubles" and "public issues" are related; understanding this relationship is essential for developing a sociological imagination .
Everyday Sociology Blog
A (Budding) Sociologist's Commonplace Book
This Week in Sociology