Blogs
The Unemployed Dismissed Congress left Washington D.C. without renewing an emergency program that extends the length of time the unemployed can receive unemployment insurance benefits. As it now stands, on December 28, 2013 some 1.3 million unemployed Americans will lose their unemployment benefits. As Brad Plummer explains in his blog post at wonkblog: In normal times, the states and federal government work together to fund up to 26 weeks of unemployment benefits.
Reports from the Economic Front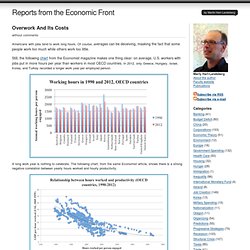 Sociology and the Cuts
Ethnography.com
Ballots & Bullets | School of Politics & International Relations, University of Nottingham
The Public Intellectual
British Politics and Policy at LSE | LSE experts analyse and debate recent developments across UK government
Lush Life makes a timely contribution to social scientific knowledge of organized crime in a period of substantial criminal justice and police restructuring, writes Karen Lumsden. In this essential read for sociologists, criminologists, and urban geographers, Dick Hobbs covers the flexible nature of the criminal market, the constructed nature of the notion of organised crime, and the normalisation of criminality. It is a timely reminder of the need to go beyond official and media definitions and representations of organized crime. Lush Life: Constructing Organized Crime in the UK. Dick Hobbs. Oxford University Press. 2013.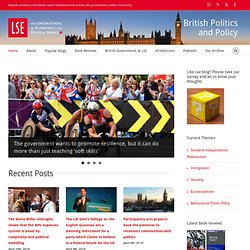 Talking Philosophy
Public Reason · a blog for political philosophers
The Virtual Stoa
Pileus
In Medias Res
normblog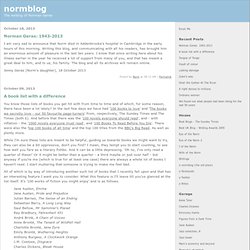 You know those lists of books you get hit with from time to time and of which, for some reason, there have been a lot lately? In the last few days we have had '100 books to love' and 'The books we secretly love - our 50 favourite page-turners' from, respectively, The Sunday Times and The Times (both £). And before that there was the '100 novels everyone should read', and - with inflation - the '1000 novels everyone must read', and '100 Books To Read Before You Die'. There were also the 'top 100 books of all time' and the top 100 titles from the BBC's Big Read. As well as plenty more. While I'm sure these lists are meant to be helpful, guiding us towards books we might want to try, they can also be a bit oppressive, don't you find?
Fugue as Method: A Fughetta on Interdisciplinary Work Within Contemporary Academia by rademacher, 3 hours ago at 07:00 am Cantata BWV 75Johann Sebastian BachSource: Bach Digital Project Exposition - "The first statement of the subject by all the 'voices' in turn" Oxford Dictionary of Music.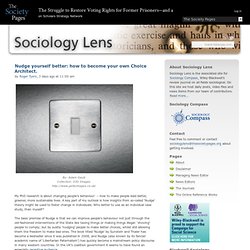 Sociology Lens » news. resources. commentary.
Zombies in the Academy
Critical Hermeneutics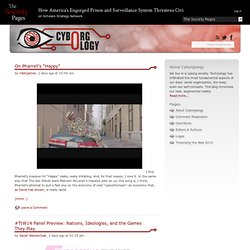 Cyborgology
I'm working my way through a response to Sarah's incisive and provocative posts on Drone Sexuality. But, I realized that I need to get some preliminary arguments on the table before I get into the thick of my response. In particular, I want to focus on what Sarah identifies as the ambivalence at the center of drone/cyborg eroticism; this ambivalence is, as I have argued in this article, deeply racialized. In what follows I'll first explain my reading of Sarah's point and then follow that up with the relevant excerpt from the article.
The Machine Starts
Technosociology
politicsmatter
Family Inequality
Replicated Typo
Anthropology in Practice
Careers – in Theory
The Immanent Frame
December 20th, 2013 Modernity, enchantment, and Fictionalism posted by Michael Saler
orgtheory.net
Understanding Society
Permutations
28 April 2013 App Stats: Roberts, Stewart, and Tingley on "Topic models for open ended survey responses with applications to experiments" We hope you can join us this Wednesday, May 1, 2013 for the Applied Statistics Workshop. Molly Roberts, Brandon Stewart, and Dustin Tingley, all from the Department of Government at Harvard University, will give a presentation entitled "Topic models for open ended survey responses with applications to experiments". A light lunch will be served at 12 pm and the talk will begin at 12.15. "Topic models for open ended survey responses with applications to experiments" Molly Roberts, Brandon Stewart, and Dustin Tingley Government Department, Harvard University CGIS K354 (1737 Cambridge St.)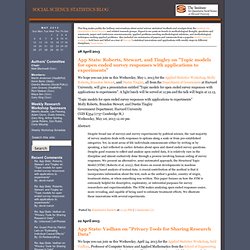 Social Science Statistics Blog
Statistical Modeling, Causal Inference
scatterplot
About ethnography, research & insight
Thought Catalog
Real-World Economics Review Blog
Michael Roberts Blog
Socialist Economic Bulletin
The Global Sociology Blog
By Peter Kaufman Let's face it: Americans love being number one. It seems that wherever we turn, we are reminded of whom or what is the best.
Everyday Sociology Blog
A (Budding) Sociologist's Commonplace Book
This Week in Sociology