Blogs
Reports from the Economic Front. Overwork And Its Costs Americans with jobs tend to work long hours.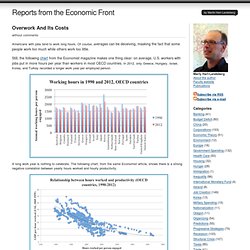 Of course, averages can be deceiving, masking the fact that some people work too much while others work too little. Still, the following chart from the Economist magazine makes one thing clear: on average, U.S. workers with jobs put in more hours per year than workers in most OECD countries. In 2012, only Greece, Hungary, Israel, Korea, and Turkey recorded a longer work year per employed person. Sociology and the Cuts. Ethnography.com. Ballots & Bullets | School of Politics & International Relations, University of Nottingham. The Public Intellectual. British Politics and Policy at LSE | LSE experts analyse and debate recent developments across UK government. Talking Philosophy. Public Reason · a blog for political philosophers.
The Virtual Stoa. Pileus. In Medias Res. Normblog. You know those lists of books you get hit with from time to time and of which, for some reason, there have been a lot lately?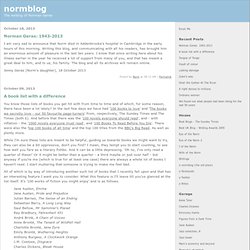 In the last few days we have had '100 books to love' and 'The books we secretly love - our 50 favourite page-turners' from, respectively, The Sunday Times and The Times (both £). And before that there was the '100 novels everyone should read', and - with inflation - the '1000 novels everyone must read', and '100 Books To Read Before You Die'. There were also the 'top 100 books of all time' and the top 100 titles from the BBC's Big Read. As well as plenty more. While I'm sure these lists are meant to be helpful, guiding us towards books we might want to try, they can also be a bit oppressive, don't you find? Sociology Lens » news. resources. commentary. Nudge yourself better: how to become your own Choice Architect. by Roger Tyers, 3 days ago at 11:00 am By: Adam GaultCollection: OJO My PhD research is about changing people's behaviour – how to make people lead better, greener, more sustainable lives.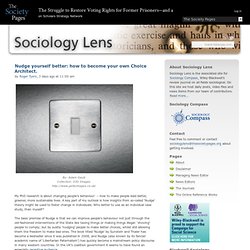 Zombies in the Academy. Critical Hermeneutics. Cyborgology. On Pharrell's "Happy" by robinjames, 2 days ago at 05:00 am I find Pharrell's massive hit "Happy" really, really irritating.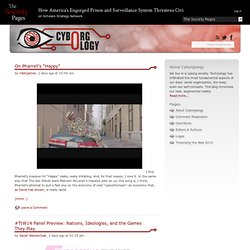 And, for that reason, I love it. The Machine Starts. Technosociology. Politicsmatter. Family Inequality. Replicated Typo. Anthropology in Practice. Careers – in Theory. The Immanent Frame. April 9th, 2014 Searching for the church of Islam posted by Amr Ezzat.
Orgtheory.net. Understanding Society. Permutations. Social Science Statistics Blog. 28 April 2013 App Stats: Roberts, Stewart, and Tingley on "Topic models for open ended survey responses with applications to experiments" We hope you can join us this Wednesday, May 1, 2013 for the Applied Statistics Workshop.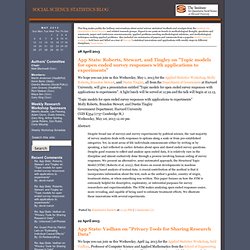 Molly Roberts, Brandon Stewart, and Dustin Tingley, all from the Department of Government at Harvard University, will give a presentation entitled "Topic models for open ended survey responses with applications to experiments". A light lunch will be served at 12 pm and the talk will begin at 12.15. "Topic models for open ended survey responses with applications to experiments" Molly Roberts, Brandon Stewart, and Dustin Tingley Government Department, Harvard University CGIS K354 (1737 Cambridge St.) Statistical Modeling, Causal Inference. Scatterplot. About ethnography, research & insight. Thought Catalog. Real-World Economics Review Blog. Michael Roberts Blog. Socialist Economic Bulletin. The Global Sociology Blog. Everyday Sociology Blog. By Karen Sternheimer As a self-starter, I like self-help books, and have read or listened to number of audio books in the genre.
I have listened to many books on discovering one's passions and creativity, on personal finance, relationships, career building, and those promoting emotional well-being. A (Budding) Sociologist's Commonplace Book. This Week in Sociology.
---