Blogs
Overwork And Its Costs Americans with jobs tend to work long hours. Of course, averages can be deceiving, masking the fact that some people work too much while others work too little. Still, the following chart from the Economist magazine makes one thing clear: on average, U.S. workers with jobs put in more hours per year than workers in most OECD countries. In 2012, only Greece, Hungary, Israel, Korea, and Turkey recorded a longer work year per employed person.
Reports from the Economic Front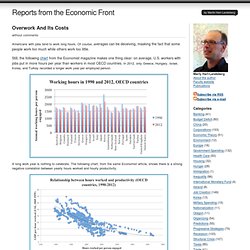 Sociology and the Cuts
Meetings are rituals, and rituals need symbols, and decorations, in other words potted plants. Ie been to a lot of meetings in my time as an academic where I sat bored and confused, but still clap on cue. The most obvious place I am such a decoration is in May graduation ceremonies. I sit in a hot black robe in May, with the faculty and react in unison with those around me. Literally an honored potted plant. But there are many more places where such potted plants exist—decoration at a meeting where pre-prepared decisions are served up.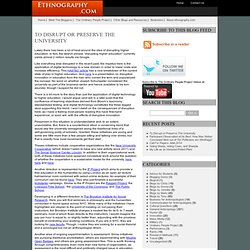 Ethnography.com
Ballots & Bullets | School of Politics & International Relations, University of Nottingham
The Public Intellectual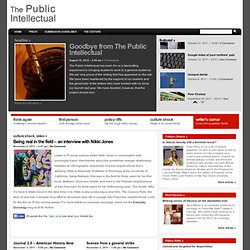 Culture Shock, Video » Being real in the field – an interview with Nikki Jones Listen to PI social science editor Nikki Jones in conversation with sociologist Karen Sternheimer about the sometimes strange relationship between an ethnographic researcher and the neighborhood she's studying. Nikki is Associate Professor of Sociology at the University of California, Santa Barbara. She was in the field for three years for her first book, Between Good and Ghetto, and lived in the Fillmore neighborhood of San Francisco for three years for her forthcoming book, The Hustle: Why it's Hard to Make Good in the New Inner City.
British Politics and Policy at LSE | LSE experts analyse and debate recent developments across UK government
Here is a story I reported a while ago, but which the business of life prevented me from publishing until now. It is still an important story about a recent incident in the history of professional philosophy. The past year has seen an increased awareness and discussion of the poor climate for women and minorities in the field of philosophy. I offer you another story about a struggle to diversify this field that remains woefully mostly white and male.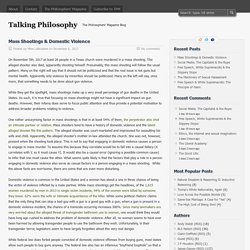 Talking Philosophy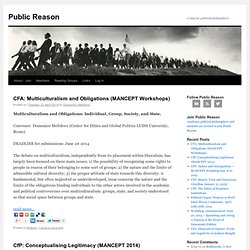 Workshop Announcement: June 20, 2014 – Spectating and Acting: A Tension at the Heart of Democratic Politics Workshop at the University of Edinburgh June 20, 2014 Main Library Building, Room 1.11 The detailed programme, including the abstracts of the presentations, can be found here:http://judgepol.sps.ed.ac.uk/events/spectating-and-acting-a-tension-at-the-heart-of-democratic-politics/ Speakers
Public Reason · a blog for political philosophers
The Virtual Stoa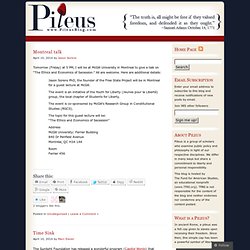 Tomorrow (Friday) at 5 PM, I will be at McGill University in Montreal to give a talk on "The Ethics and Economics of Secession." All are welcome. Here are additional details: Jason Sorens PhD, the founder of the Free State Project will be in Montreal for a guest lecture at McGill.The event is an initiative of the Youth for Liberty (Jeunes pour la Liberté) group, the local chapter of Students for Liberty.The event is co-sponsored by McGill's Research Group in Constitutional Studies (RGCS).The topic for this guest lecture will be: "The Ethics and Economics of Secession"Address McGill University: Ferrier Building 840 Dr Penfield Avenue Montréal, QC H3A 1A4Room Ferrier 456 Like this: Like Loading...
Pileus
In Medias Res
[Cross-posted to Front Porch Republic] Yesterday evening, I participated in a symposium sponsored in part by Northfield School of the Liberal Arts, a private Christian academy, here in Wichita, KS. I've done a lot with Northfield over the years, as I strongly admire their sense of public engagement and their fascinating mix of evangelical traditionalism and downright hippie experimentation, including participating in an earlier symposium of theirs.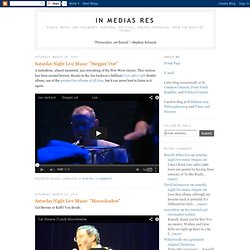 normblog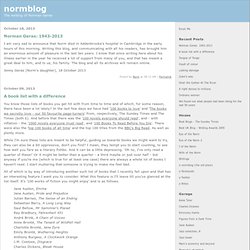 You know those lists of books you get hit with from time to time and of which, for some reason, there have been a lot lately? In the last few days we have had '100 books to love' and 'The books we secretly love - our 50 favourite page-turners' from, respectively, The Sunday Times and The Times (both £). And before that there was the '100 novels everyone should read', and - with inflation - the '1000 novels everyone must read', and '100 Books To Read Before You Die'. There were also the 'top 100 books of all time' and the top 100 titles from the BBC's Big Read. As well as plenty more. While I'm sure these lists are meant to be helpful, guiding us towards books we might want to try, they can also be a bit oppressive, don't you find?
Nudge yourself better: how to become your own Choice Architect. by Roger Tyers, 3 days ago at 11:00 am By: Adam GaultCollection: OJO Imageshttp://www.gettyimages.co.uk/ My PhD research is about changing people's behaviour – how to make people lead better, greener, more sustainable lives.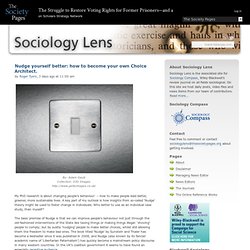 Sociology Lens » news. resources. commentary.
Zombies in the Academy
"David Kaplan evaluates the potential of Gadamer's and Ricoeur's thought to a philosophy of technology. Neither of the two has anything original to say about technology per se, but their hermeneutic theories are pertinent to the analysis of the meaning of artifacts, the reasoning relevant to their use, and the ways they mediate experience and self-understanding. As is well known, Gadamer criticizes technology because of its supposed elevation of a dehumanizing, calculative rationality.
Critical Hermeneutics
Cyborgology
On Pharrell's "Happy" by robinjames, 2 days ago at 05:00 am I find Pharrell's massive hit "Happy" really, really irritating. And, for that reason, I love it.
The Machine Starts
Valentine's Day, 2014. Outside the cinema a gale was blowing through the district in London where I live. Rubbish that had been strewn everywhere by the wind was now sodden, dilapidated.
Technosociology
When I tell people I study social media, politics and social movements, I often get a version of the question: "But there were protests before Facebook?" Sure, I say, but how did people hear about it? Word-of-mouth is, of course, one way but [in the modern era] [and especially in repressive settings] it's almost never never fast enough to spread protest of news quickly enough–remember, a political protest is a strategic game with multiple actors including a state which often wants to shut them down. Too slow diffusion of information, and your people will get arrested faster than they can show up at all. History of modern revolutions is always mixed up with the history and the structure of the communicative infrastructure of technology.
politicsmatter
Family Inequality
Replicated Typo
Anthropology in Practice
Careers – in Theory
The Immanent Frame
orgtheory.net
Understanding Society
Permutations
Social Science Statistics Blog
Statistical Modeling, Causal Inference
scatterplot
About ethnography, research & insight
Thought Catalog
Real-World Economics Review Blog
Michael Roberts Blog
Socialist Economic Bulletin
The Global Sociology Blog
Everyday Sociology Blog
A (Budding) Sociologist's Commonplace Book
This Week in Sociology