Social network analysis
As we embark on 2012, the team at Awareness, Inc. consulted with the best and the brightest in marketing, strategy, technology, business and social media to help us identify the top news, analysis and trends resources for social marketing and social technology.
The Ultimate News Resource Guide to Social Marketing: 55 Top Marketing, Technology and Social Media News, Analysis and Trends Resources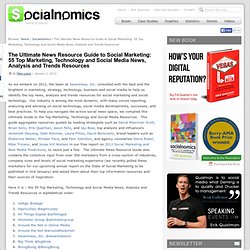 viewcontent.cgi?article=1006&context=jitpc2011&sei-redir=1&referer=http%3A%2F%2Fwww.google.com.mx%2Furl%3Fsa%3Dt%26rct%3Dj%26q%3Dsocial%2520mining%2520tools%26source%3Dweb%26cd%3D17%26ved%3D0CGMQFjAGOAo%26url%3Dhttp%253A%252F%252Fscholarworks.umass.edu%25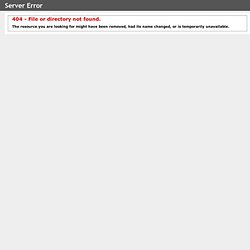 EntityCube is a research prototype for exploring object-level search technologies, which automatically summarizes the Web for entities (such as people, locations and organizations) with a modest web presence. The Chinese-language version is called . The need for collecting and understanding Web information about a real-world entity (such as a person or a product) is mostly collated manually through search engines.
About EntityCube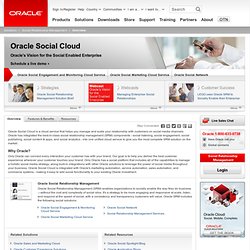 Oracle Social Cloud is a cloud service that helps you manage and scale your relationship with customers on social media channels. Oracle has integrated the best-in-class social relationship management (SRM) components - social listening, social engagement, social publishing, social content & apps, and social analytics - into one unified cloud service to give you the most complete SRM solution on the market. Why Oracle? Only Oracle can connect every interaction your customer has with your brand. Our goal is to help you deliver the best customer experience wherever your customer touches your brand. Only Oracle has a social platform that includes all of the capabilities to manage a holistic social media strategy; along built-in integrations with other Oracle solutions to leverage the power of social media throughout your business.
Social network analysis software (SNA software) is software which facilitates quantitative or qualitative analysis of social networks, by describing features of a network either through numerical or visual representation. Overview[edit]