Monitoring
5 Places to Look for Your Digital Footprint. Recently, many iPhone and iPad users were incensed to learn that Siri — the personal digital assistant for iOS devices — has an eerily long memory.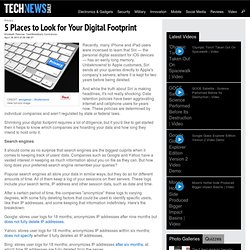 Unbeknownst to Apple customers, Siri sends all your queries directly to Apple's company's servers, where it is kept for two years before being deleted. And while the truth about Siri is making headlines, it's not really shocking. Data retention policies have been aggravating Internet and cellphone users for years now.
Real Time Search - Social Mention. A Wiki of Social Media Monitoring Solutions. HootSuite - Social Media Dashboard for Teams using Twitter, Facebook, Linkedin. Crowdbooster – Tweet Analyse Tool | www.stephanroebbeln.de. Crowdbooster ist ein Twitter Analytics Tool, dass Euch helfen soll Eure Tweets zu analysieren und mit einer besseren Planung eine größere Reichweite der Tweets zu erreichen.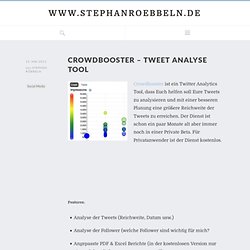 Der Dienst ist schon ein paar Monate alt aber immer noch in einer Private Beta. Für Privatanwender ist der Dienst kostenlos. Features: So gehts: "Negative" Insights Daten auslesen. Mit der Einführung der neuen Page Insights in den letzten zwei Monaten wird einigen Nutzer sicher aufgefallen sein, dass Facebook hier eine wichtige Zahl eliminiert hat: Die Information über die Nutzer, die eine Page im Newsstream verborgen haben.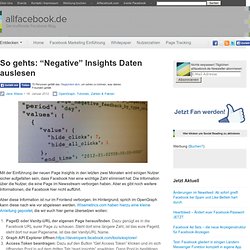 Aber es gibt noch weitere Informationen, die Facebook hier nicht aufführt. Aber diese Information ist nur im Frontend verborgen. Im Hintergrund, sprich im OpenGraph kann diese nach wie vor abgelesen werden.
---