Social Media
The Fantabulous Lists of Social Media Case Studies. Open Source CMS Demos & Information. Is Mobile Affecting When We Read? « Read It Later Blog. Printed media used to allow us to read in the places we found most comfortable.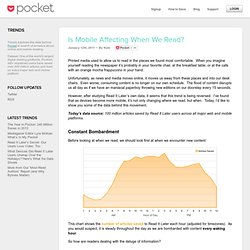 When you imagine yourself reading the newspaper it's probably in your favorite chair, at the breakfast table, or at the cafe with an orange mocha frappuccino in your hand. Unfortunately, as news and media moves online, it moves us away from these places and into our desk chairs. 6 Reasons You're Being Social Media Ignored. We're just two weeks into 2011 and you may already be feeling a little social media frustrated.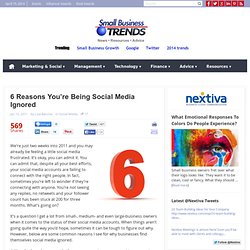 It's okay, you can admit it. You can admit that, despite all your best efforts, your social media accounts are failing to connect with the right people. In fact, sometimes you're left to wonder if they're connecting with anyone. The Conversation Prism by Brian Solis and JESS3. The:viral:factory - a digital marketing and media company. The 5 Basic Points of Digital Marketing. Digital marketing, like any other business venture, has both its pros and cons.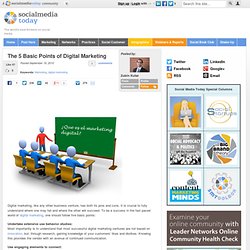 It is crucial to fully understand where one may fail and where the other will succeed. To be a success in the fast paced world of digital marketing, one should follow five basic points: Undertake extensive use behavior studies: Most importantly is to understand that most successful digital marketing ventures are not based on innovation, but, through research, gaining knowledge of your customers' likes and dislikes. The 4 Cs of Social Media. Social media is a paradox: it is the physical representation of a revolution in the way consumers obtain (and create) information.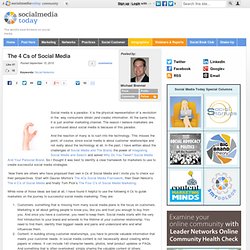 At the same time, it is just another marketing channel. The reason I believe marketers are so confused about social media is because of this paradox. And the reaction of many is to rush into the technology. This misses the point, of course, since social media is about customer relationships and not really about the technology at all. In the past, I have written about the challenges of Social Media and The Brand, the power of Integrating Social Media and Search and asked Why Do You Tweet? Challenges of Cross-Channel Marketing Integration. Brand engagement can happen anywhere—a fact recognized by the US senior-level marketers surveyed by integrated marketing solutions provider Alterian, 60% of whom said most customer engagement happens both online and offline.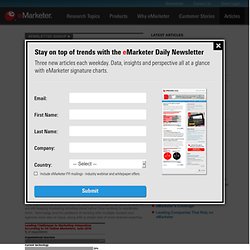 The rest of the respondents were split evenly between the two. Customers likewise indicate that they expect several touchpoints with a brand. The Best Way To Grow An Audience And Build Your Community. Is it a Facebook page?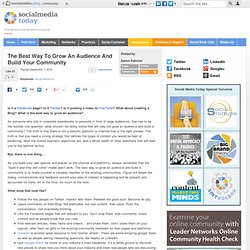 Is it Twitter? Is it posting a video to YouTube? What about creating a Blog? What is the best way to grow an audience? As someone who sits in corporate boardrooms or presents in front of large audiences, that has to be the number one question: what should I be doing online that will help me grow an audience and build a community? Infografía: Las mejores campañas y marcas virales de 2010. Excelente infografía desarrollada por la agencia de publicidad viral británica Viral Ad Network (para NMA´s Viral Brand Chart), que compila excepcionalmente todo el fenómeno del marketing viral>> en Internet durante el primer semestre de 2010 (20 de marzo al 26 de julio).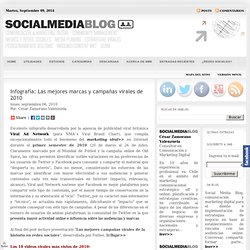 Claramente marcado por el Mundial de Fútbol y la campaña online de Old Spice, las cifras permiten identificar sutiles variaciones en las preferencias de los usuarios de Twitter y Facebook para consumir y compartir el material que "despierta su interés". Dato no menor, considerando los esfuerzos de las marcas por identificar con mayor efectividad a sus audiencias y generar contenidos cada vez más transversales en Internet (impacto, relevancia, alcance). Viral and Network sostiene que Facebook es mejor plataforma para compartir este tipo de contenido, por el mayor tiempo de conservación de la información y su orientación al "ocio". 5 Tips For Starting A Social Media Conversation. So you've uploaded a snappy profile picture, crafted a swanky bio and officially launched your social presence on Twitter, Facebook and the works.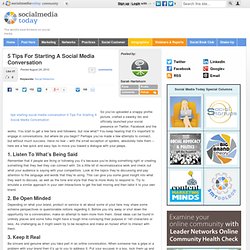 You start to get a few fans and followers, but now what? You keep hearing that it's important to engage in conversations, but where do you begin? Perhaps you've made a few attempts to connect, but without much success. Ogilvy PR Paris.
---