Facebook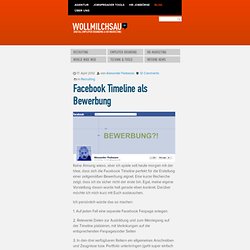 Facebook Timeline als Bewerbung
Keine Ahnung wieso, aber ich spiele seit heute morgen mit der Idee, dass sich die Facebook Timeline perfekt für die Erstellung einer zeitgemäßen Bewerbung eignet. Eine kurze Recherche zeigt, dass ich da sicher nicht der erste bin. Egal, meine eigene Vorstellung davon wurde halt gerade eben konkret. Darüber möchte ich mich kurz mit Euch austauschen.
How to Create Facebook Interest Lists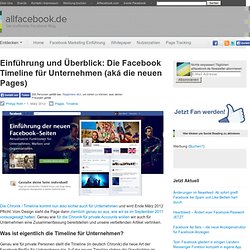 Einführung und Überblick: Die Facebook Timeline für Unternehmen (aká die neuen Pages)
Die Chronik / Timeline kommt nun also sicher auch für Unternehmen und wird Ende März 2012 Pflicht. Vom Design sieht die Page dann ziemlich genau so aus, wie wir es im September 2011 vorausgesagt hatten. Genau wie für die Chronik für private Accounts wollen wir auch für Unternehmen eine Zusammenfassung bereitstellen und unsere vertiefenden Artikel verlinken. Was ist eigentlich die Timeline für Unternehmen? Genau wie für private Personen stellt die Timeline (in deutsch Chronik) die neue Art der Facebook Profile für Unternehmen dar.
Whitepaper: Funktionsweise der Facebook Timeline für Unternehmen - Donner & Doria® Werbeagentur Mannheim
Liste der deutschen Krankenhäuser bei Facebook (01/2012) - der gesundheitswirt
Der EdgeRank ist so etwas wie der Heilige Gral von Facebook. Interagieren Nutzer nicht mit Facebook Seiten, sinkt der EdgeRank der veröffentlichten Beiträge und die Sichtbarkeit im Newsfeed geht zurück bzw. Postings werden überhaupt nicht mehr angezeigt. Steckt man als Marke einmal in dieser Situation, ist nur sehr schwer möglich, den EdgeRank durch neue Beiträge zu verbessern. Theoretisch ist es nur möglich, wenn der Nutzer die Seite manuell in Facebook aufruft und mit ihr interagiert. Was kann man als Marke also machen, um den EdgeRank zu verbessern?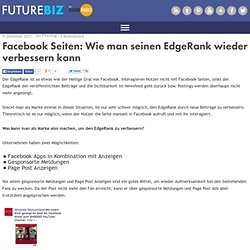 Facebook Seiten: Wie man seinen EdgeRank wieder verbessern kann
Einführung und Überblick: Die Facebook Timeline für Unternehmen (aká die neuen Pages)
Using Facebook At Work Makes Employees Happy
By Sarah C.P. Williams, ScienceNOW To join Facebook or not to join Facebook? You might think the decision depends on how many of your friends are already on the social-networking site. But a new study reveals that it's not the raw number of friends that matters but rather the types of friends who are signed up.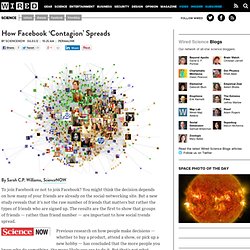 How Facebook 'Contagion' Spreads | Wired Science
Theres certainly been a lot of talk about the Facebook purchase of Instagram for a cool $ 1 billion (in cash and stock) since Mark Zuckerberg broke the news in a post on his timeline yesterday. And while a lot of people are headed for the exit already and deleting their Instagram accounts, I get the feeling that many might be doing so for spurious reasons. Sure, Facebook has a terribly privacy record and yes, that means the same is probably going to be said of pictures you upload in the future to Instagram (both Zuckerberg and Instagram CEO, Kevin Systrom , insist that the two entities will operate separately but who knows how long that will last).
Why Instagram in bed with Facebook is a bad thing (and why I'm deleting my account) « hectique boutique