Social media articles
Do you want to use Twitter to promote your business? Are you looking for ways to build relationships that matter on Twitter? In this article, you'll discover how to build a strong Twitter community with influencers, which will benefit your business. Building Connections With Twitter Using Twitter to help your company grow isn't about the number of followers you have. It's about building a community of followers who are passionate about your industry and who eventually become passionate about your brand.
How to Network with Influential People Using Twitter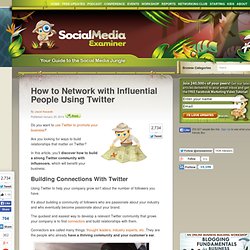 20 Instagram Apps to Enhance Your Photos and Videos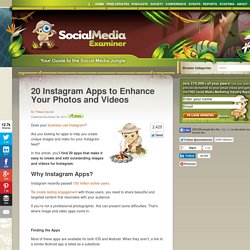 Does your business use Instagram? Are you looking for apps to help you create unique images and video for your Instagram feed? In this article, you'll find 20 apps that make it easy to create and edit outstanding images and videos for Instagram. Why Instagram Apps? Instagram recently passed 150 million active users.
Do you use Google Analytics to help you make marketing decisions? Are you familiar with the latest changes in Google Analytics? Google recently made the switch to secure search, which has resulted in a larger return of "not provided" keyword data in Analytics reports. For marketers who used the information to guide their marketing and content, the loss of keyword data has been quite a blow. Fortunately, Google also updated Analytics with more than 14 new features that are incredibly useful to business owners who make decisions based on how their audience interacts with their website and social profiles. In this article, I'll share what's new in Google Analytics and how you can make the most of these changes to benefit your business.
6 New Google Analytics Features for Marketers
Do you need help measuring your Pinterest activity? Are you wondering which tools can help you grow your followers on Pinterest? In this article, I'll show you 4 tools to help you analyze and grow your presence on Pinterest. Why Pinterest Tools? The average Pinterest user follows nine brands and spends just over 15 minutes on the platform.
4 Pinterest Tools to Grow and Measure Your Pinterest Presence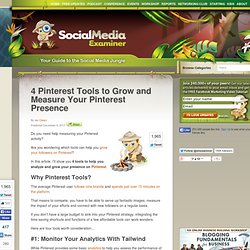 6 Amazing Social Media Productivity Tools - Jeffbullas's Blog
Social media is a great place to waste time, and many of us do. However, there are also some great tools and apps that can help to actually save time and help users to be more productive and successful. The good news is that these 6 tools are actually fun to use, and most importantly, they motivate you and your employees to keep moving forward and increasing your value. A motivated and productive person is someone we all admire. Here are 6 social media productivity tools to help you manage your social media marketing activities. #1.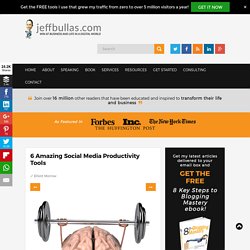 Are you looking for some practical tips and tools to help with your social media marketing? Do you find it difficult to keep up with how quickly social media is evolving? In this article, I outline a collection of technology tools and tips you'll want to consider using to improve your presence across social media.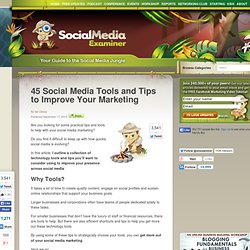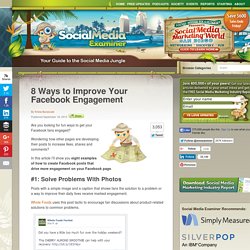 Are you looking for fun ways to get your Facebook fans engaged? Wondering how other pages are developing their posts to increase likes, shares and comments? In this article I'll show you eight examples of how to create Facebook posts that drive more engagement on your Facebook page. #1: Solve Problems With Photos Posts with a simple image and a caption that shows fans the solution to a problem or a way to improve their daily lives receive marked engagement.
8 Ways to Improve Your Facebook Engagement
Is Google+ working for your business? Are you wondering how to increase engagement with your Google+ community? Google+ is designed to focus on one thing and one thing only: engagement. So, how can you pump up your Google+ engagement? In this post, you'll discover six ways to use Google+ posts to stimulate activity. #1: Make Your Text Stand Out
6 Ways to Maximize Your Google+ Engagement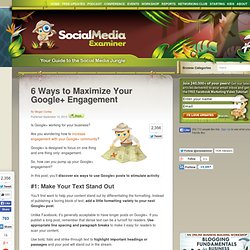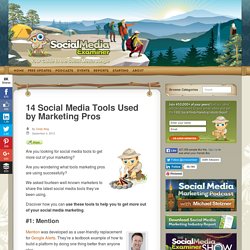 Are you looking for social media tools to get more out of your marketing? Are you wondering what tools marketing pros are using successfully? We asked fourteen well-known marketers to share the latest social media tools they've been using. Discover how you can use these tools to help you to get more out of your social media marketing. #1: Mention Todd Wheatland
7 Point Checklist to Dominate Your Personal Brand Using Google Plus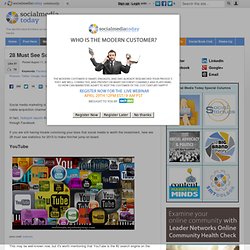 Must See Social Media Statistics
Social media marketing is not just a trendy word, it is fast becoming and in some cases already is a viable acquisition channel for most businesses. In fact, Hubspot reports that 70% of business-to-consumer marketers have acquired a customer through Facebook. If you are still having trouble convincing your boss that social media is worth the investment, here are 28 must see statistics for 2013 to make him/her jump on board. YouTube This may be well-known now, but it's worth mentioning that YouTube is the #2 search engine on the web making it one great resource for traffic and leads.
Is your Facebook Page working for your business? Have you considered using Facebook apps, but don't know where to start? In this article I'll highlight some of the most popular uses of apps, as well as a few individual apps, so you can find the right fit for your Facebook Page. What You Need to Know about Facebook Apps Apps let you do all sorts of things on your Facebook Page without writing your own code.
How to Use Facebook Apps to Promote Your Business
Social Media Marketing Tool Box: 62 Tips - Jeffbullas's Blog
Social media marketing is moving from its exciting adolescent phase to a more mature grownup status. Online social media obsession driven by social web hormones and testosterone that drove social networks to hyperactivity are being replaced by tried and now proven activities and mature business processes. Digital marketing responsibility is now in the driving seat. The dreaded phrase "what is the return on investment" is now seen as a conversation that needs to happen.
Joe Chernov is the VP of Content Marketing for Eloqua. He is responsible for creating, distributing and measuring content that increases awareness and drives demand. Marketers are suckers for a catch phrase, from "join the conversation" to "think like a publisher."
A to Z guide to Social Media | internetmonetization.com
Paul Giorkas I am an internet enthusiast and I live and breath of a dream ! A dream of me becoming free of financial worries ! This blog helps me on my marketing activities and I also post useful and relevant to the Internet Marketing Niche Content.
3 Tools That Make Busywork Suck Less | VR Marketing Blog
It's Time to Cut Back on Social Media - Dorie Clark
The 20 Best Marketing Infographics of 2012
Infographic: How Often Should You Tweet?
57 Timeless Quotes for 2013
The Rookie's Guide to Instagram for Business
Perfectly Timed Facebook Posts: 6 Tips
Secrets to a Perfectly Crafted Tweet or Facebook Post
How to Effectively Rebrand Your Social Media Profiles
Coke's Facebook expert on how to build a "social" brand
Now that they "like" you ... what's next?
What brands need to know about the new Myspace
25 Facebook tips every social media manager needs
The 5 Mistakes Marketers Continue To Make On Facebook
The Single Pinterest Pin That Launched a Company
It's Not About You: The Truth About Social Media Marketing
5 Ways Strategic Social Media Can Help Small Businesses
5 essentials for an efficient social media workflow
The Secret of Social Media Marketing Webinar: A Recap
Infographic: Game of Sales - Insideview
Katya's Non-Profit Marketing Blog
Why Google+ is Good For Business – and the Stats to Prove it [Infographic]
A guide to using images on Facebook
13+ Fantastic Tools For Knowing How They're Doing It
Email and Social: A Killer Combo
15 essential tasks to complete after installing WordPress
Want to work in social media? Read these 5 books
What are nonprofits doing with social media? Six interesting stats
He's just not that Pinterested in you! Social Media and the Sexes
How to start building your fan community
From 'Mad Men,' 4 lessons for clients
Publications Marketers Can Capitalize On Women's Social Media Engagement 03/26
Caribou Coffee uses social media to spearhead evolution | FastCasual.com
Top 5 Social Media Sites Statistics
Advertisers Say What We're All Thinking: Social-Media Spending Is Going to Explode | Digital
Social networks getting a bit less social
Social Media Effective Tool for Event Marketers
TWITTER WINNERS: 10 PR Agency Twitter Accounts to Follow - Pulse | Pulse
Publications Verizon Targets Young Professionals 02/23
Social Media Marketing Group News
Does Your Branded Franchise Need Its Own Social Media Strategy?
Twitter Series-My Super, Top Secret Tips And Tricks For Getting The Most Out Of Twitter
Hashtag Marketing: 9 Ways to Avert Disaster
Opinion: Think twice before untagging that photo
6 Social Media Pain Points (and What to Do About Them) — Online Collaboration