Social Innovation
Free cities: Honduras shrugged. Revolutions.is - Weekly stories from change-makers and culture-shapers. Access Space - Britain's 50 New Radicals - NESTA. Website: www.access-space.org Started: 2000 Based: Sheffield.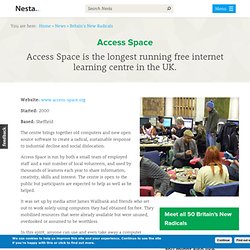 Home. ENoLL Services. ENoLL is offerting services to its members of the Open Living Labs Community.
Services can be classified in 3 different types based on their access cost, effective members (5000 EUR/yearly), associated members (5000 EUR/yearly) and adherent members (administrative fee of 500 EUR). Call for new effective members in June, pay the reduced membership fee (2500 EUR). * Number of seats for Associated members limited to 1/3 of the size of the Council ** Adherent member can occasionally receive these services under certain conditions (e.g Effective or Associated member not found, specific support to very strategic projects and programmes (under Project WG assessment), etc) *** Associated members get a 'supporting organization" label that indicates that they support ENoLL and they are associated member.
SASIX - SA Social Investment Exchange. Mondragon Corporation. Mondragon cooperatives operate in accordance with Statement on the Co-operative Identity maintained by the International Co-operative Alliance.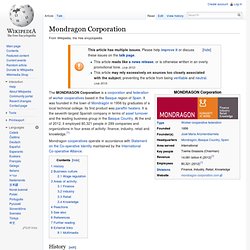 History[edit] The determining factor in the creation of the Mondragon system was the arrival in 1941 of a young Catholic priest José María Arizmendiarrieta in Mondragón, a town with a population of 7,000 that had not yet recovered from the Spanish Civil War: poverty, hunger, exile and tension.[2] In 1943, Arizmendiarrieta established a technical college that became a training ground for generations of managers, engineers and skilled labour for local companies, and primarily for the co-operatives.[3] Before creating the first co-operative, Arizmendiarrieta spent a number of years educating young people about a form of humanism based on solidarity and participation, in harmony with Catholic Social Teaching, and the importance of acquiring the necessary technical knowledge.
What A Detroit Supper Club Teaches Us About Co-Creativity. A social movement is underway in downtown Detroit.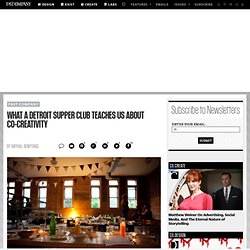 Each month, 100 or so individuals pay $5 for admission to a loft, where they eat a dinner of organic soup (and other foods) prepared by volunteers. Diners share ideas and connections, hear presentations from artists who are working on projects aimed at improving the city, and then vote on which project will receive proceeds from the evening's dinner. Detroit SOUP organizers call the gathering "a democratic experiment in micro-funding," but it's much more than that: It's an example of the power of co-creativity, and it represents the way forward for organizations that want to remain relevant and reach consumers in an authentic way.
The Harlem Project. Back in 1990, Geoffrey Canada was just your average do-gooder.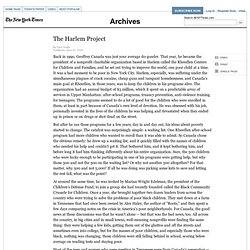 That year, he became the president of a nonprofit charitable organization based in Harlem called the Rheedlen Centers for Children and Families, and he set out trying to improve the world, one poor child at a time. It was a bad moment to be poor in New York City.
---