Social freedom
Get flash to fully experience Pearltrees
A collection of podcasts and videos from LSE's programme of public lectures and events. Find the latest 20 items on this page or browse the latest 100 | items, latest 500 | items or by year using the navigation menu on the left. To view a list of all items please see our webfeeds | .
Rēgs klīst pa Eiropu ― komunisma rēgs.
Par brīvību mēdz sacīt, ka tā ir galvenā vērtība un reizēm arī atceras, ka brīvība nozīmē spēju izdarīt izvēli, zināmu principu ievērošanu un atbildību.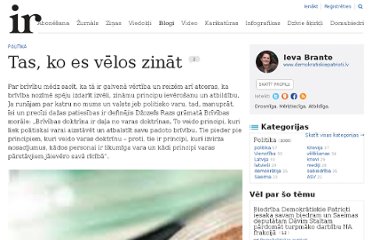 Diskusija: internets un brīvība
Nombre des pages : 284
First published Mon Mar 18, 2002; substantive revision Wed Apr 4, 2012 If a person's head moves, she may or may not have moved her head, and, if she did move it, she may have actively performed the movement of her head or merely, by doing something else, caused a passive movement. And, if she performed the movement, she might have done so intentionally or not.
First published Tue May 28, 2002; substantive revision Fri Sep 12, 2008 To be autonomous is to be a law to oneself; autonomous agents are self-governing agents.
First published Thu Feb 27, 2003; substantive revision Mon Mar 5, 2012 Negative liberty is the absence of obstacles, barriers or constraints. One has negative liberty to the extent that actions are available to one in this negative sense.