GOUROUS
Social Media All-Stars. Erik Qualman | January 13, 2010 | 55 Comments inShare13 Twenty social media marketing gurus who deserve your attention.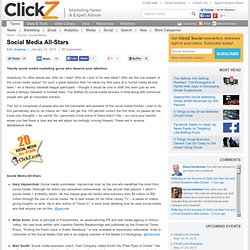 Questions I'm often asked are: Who do I read? Who do I look to for new ideas? Who are the true leaders of the social media space? Corporate Social Strategists on SlideShare. Web Strategy by Jeremiah Owyang | Social Media, Web Marketing. Slideshare: Embed or Download this ReportThe Collaborative Economy Movement Changes Business This report offers critical insight for big brands who are grappling with the emergence of the Collaborative Economy, and for the startups that are driving this growth.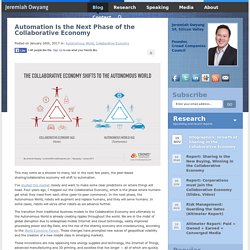 For those new to the term, the collaborative economy is a powerful, if nascent, movement in which people are getting the things from each other, it's a combination of trends like the sharing economy, maker movement, and co-innovation. That means that people go to a site like LendingClub to get funding for their new project, rather than a traditional bank. Frederic CAVAZZA's Presentations on SlideShare.
---