Cases
Innovation Key to Future of Online Retail; Interview with One Kings Lane CEO, Doug Mack. Flash sales is a hot topic we cover routinely here at Social Commerce Today.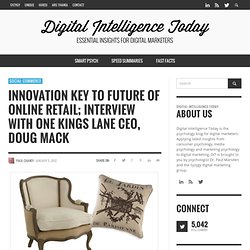 Recently, Shop.org interviewed Doug Mack, CEO of One Kings Lane, a flash sales site that sells home decor, about the influence of social commerce. Here are the highlights of that interview that pertain particularly to social commerce. Interest Graph is Social Commerce Future Trend In regard to future trends, Mack joined the chorus of those that suggest the "interest graph" is the direction where things are heading. Say Hello To The Real "Want" Button That Beat Facebook To The Punch. Social Commerce Today. Amazon is stifling the e-commerce revolution. "If you're not in first place, then you're in last."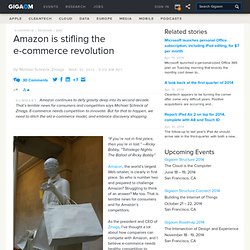 —Ricky Bobby, "Talladega Nights: The Ballad of Ricky Bobby" Amazon, the world's largest Web retailer, is clearly in first place. Online retailers like social media buttons. Facebook buttons on 71% of top online shops Social media recommendation buttons are now featured on the majority of successful e-commerce websites and are more popular than simple sharing plug-ins, according to new research.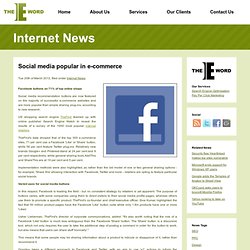 US shopping search engine TheFind teamed up with online publisher Search Engine Watch to reveal the results of a survey of the 1000 most popular internet retailers. TheFind's data showed that of the top 300 e-commerce sites, 71 per cent use a Facebook 'Like' or 'Share' button, while 58 per cent feature Twitter plug-ins. Relatively new brands Google+ and Pinterest stand at 24 per cent and 9 per cent respectively; while general sharing tools AddThis and ShareThis are at 19 per cent and 5 per cent.
Implementation methods were also highlighted, as rather than the old model of one or two general sharing options - for example, 'Share this' allowing interaction with Facebook, Twitter and more - retailers are opting to feature particular social brands. The Curious Case of Social Buttons in E-commerce. Shopping search technology company, The Find, shared some research into the implementation of social buttons on e-commerce sites exclusively with SEW.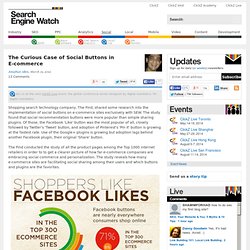 The study found that social recommendation buttons were more popular than simple sharing plugins. Of those, the Facebook 'Like' button was the most popular of all, closely followed by Twitter's 'Tweet' button, and adoption of Pinterest's 'Pin it' button is growing at the fastest rate. Use of the Google+ plugins is growing but adoption lags behind another Facebook plugin, their original 'Share' button. The Find conducted the study of all the product pages among the Top 1000 internet retailers in order to to get a clearer picture of how far e-commerce companies are embracing social commerce and personalization.
The 6 Pillars Of Social Commerce: Understanding The Psychology Of Engagement. Social media is about social science, not technology.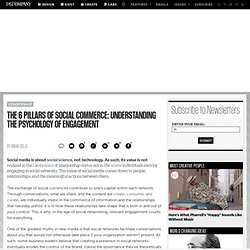 As such, its value is not realized in the Likenomics of relationship status nor in the scores individuals earn by engaging in social networks. The value of social media comes down to people, relationships, and the meaningful actions between them. E-commerce consumer reviews: why you need them and how to use them. 61% of customers read online reviews before making a purchase decision, and they are now essential for e-commerce sites.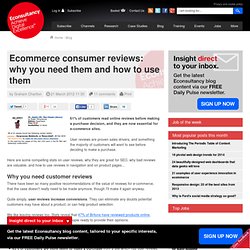 User reviews are proven sales drivers, and something the majority of customers will want to see before deciding to make a purchase. Here are some compelling stats on user reviews, why they are great for SEO, why bad reviews are valuable, and how to use reviews in navigation and on product pages...
---