Singing Bowls
These singing Bowls are fantastic. I'd like to own one someday. Welcome to the team and happy pearling. timepeaces Mar 29
Gary Fey - Taos Singing Quartz Bowl
Crystal Bowl Meditation - Bing Videos
Mandala Quartz Crystal Singing Bowl Energy Healing Video - Bing Videos
Our Quartz Crystal Singing Bowls and Sets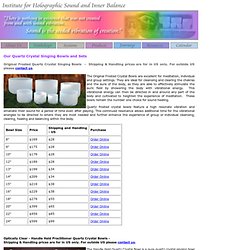 Quartz Crystal Bowls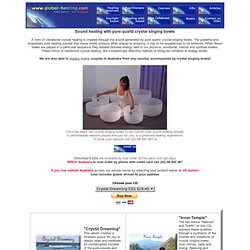 The Magic of Pure Quartz Crystal Singing Bowls Self-Acceptance through Self-Love A review of "Crystal Dreaming" and "Inner Temple" from "Living NOW" magazine...
Pure Quartz Crystal Singing Bowls
Heart Power
eart, Lungs, Liver, Veins and Arteries, Circulation
Singing bowls, crystal bowls, crystal singing bowls, quartz singing bowls, new age music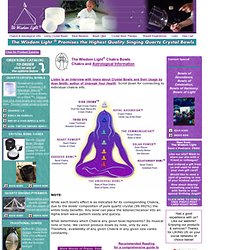 While each bowl's effect is as indicated for its corresponding Chakra, due to the bowls' composition of pure quartz crystal (99.992%) the entire body benefits.
Misa Tybetańska
Misy Dźwiękowe
Gong and Tibetan Singing Bowl Meditation
Don't WATCH this video Unless You Want HARMONY Music!! ##
Singing Bowl, Plain, 6"