Snacks
Get flash to fully experience Pearltrees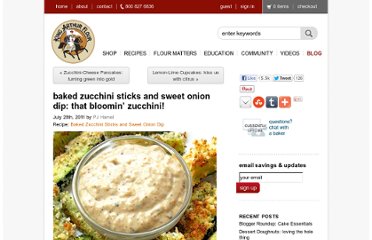 Today, class, it being late July and all, we're going to examine our zucchini facts: •Zucchini is always at the end of any A-to-Z food list; •Zucchini and fruitcake are the undeserving targets of many a joke; •The zucchini plant literally grows like a weed, making it absolutely ubiquitous in vegetable gardens across America; •And for that reason, enterprising cooks have discovered ways to turn it into muffins, and cake, and pancakes, and… Baked Zucchini Sticks.
File this under the Onion Soup Mix Recipe category, though there is no Lipton onion soup mix in site. I may even serve these at my next dinner party, they were that good! While babysitting for my 6 year old picky eater niece, I had to come up with a good lunch that would be fun for the two of us to make together.
If you've done much reading on this blog, you know that I love to cook and eat delicious foods. Unfortunately, they're not all the healthiest choices, so my husband and I have decided to make more of an effort to plan healthy, lower-fat, lower starch, higher fiber, more veggie-filled meals. I also made a list of healthful snacks we should try to have on hand.
On Fridays, I teach cooking classes to two kids in our neighborhood.
By Kath Dedon a Cheese crackers !
Maddy has been on a "fruit roll-ups" kick lately.
April 16, 2010 So…what's a girl to do when gorgeous, big, ripe avocados are on sale during "Hip Hip for Hummus Week"? Make guacamumus!
We've all had good spinach dip. A little sour cream, a little cheese, some thawed frozen spinach and you're in business. It's the type of party dish you throw out on a table with a few crackers, maybe some slices of toasted baguette, and it's guaranteed to be gobbled up in a matter of minutes.