Wiki SIC
Welcome to Library Success: A Best Practices Wiki. This wiki was created to be a one-stop shop for great ideas and information for all types of librarians. All over the world, librarians are developing successful programs and doing innovative things with technology that no one outside of their library knows about. There are lots of great blogs out there sharing information about the profession, but there is no one place where all of this information is collected and organized. That's what we're trying to do. If you've done something at your library that you consider a success, please write about it in the wiki or provide a link to outside coverage.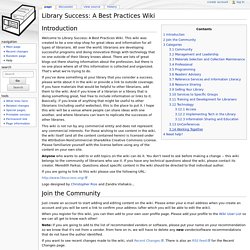 BiblioTIC : l'informatique et l'Internet au service des biblioth
Wikis - LISWiki
Wikis are, in general, online content repositories that allow others to contribute and modify entries. The name comes from the "wiki wiki" shuttle buses at the Honolulu International Airport. Ward Cunningham is credited with the original WikiWikiWeb.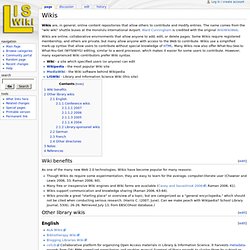 Services 2.0 dans les bibliothèques, vers des bibliothèques 2.0?
Web 2.0 : le livre en interaction