Reference Material
Shakespeare Resource Center
Custom Search Studies in Shakespeare
Approaches to Shakespeare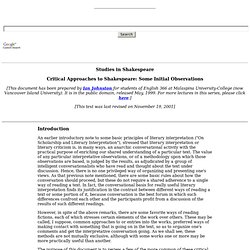 From philosophy to literature to learning a new language, Humanities 360 is a veritable fountain of knowledge on everything you'd like to know about the humanities. Resources for every level of writing Here at Helium Publishing, we pride ourselves on knowing a thing or two about writing. We are, after all, one of the largest online writer communities.
Essays - Appreciate Shakespeare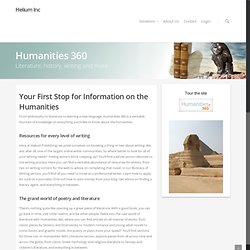 Intro to Genres
Plays haven't always been classified according to the traditional genres of comedy, tragedy and history.
Thinking with Shakespeare: Essays
Rhetoric - With what persuasion . . .
Back to Medieval Source Book | ORB Main Page | Links to Other Medieval Sites | Medieval Sourcebook: Nicolo Machiavelli (1469-1527): The Prince, 1513 Chapter I : How Many Kinds of Principlaities There are, and by What means they are Acquired
The Prince, Machiavelli- 1513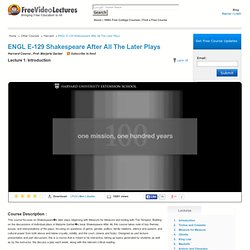 Course Description : This course focuses on Shakespeares later plays beginning with Measure for Measure and ending with The Tempest. Building on the discussions of individual plays in Marjorie Garbers book Shakespeare After All, this course takes note of key themes, issues, and interpretations of the plays, focusing on questions of genre, gender, politics, family relations, silence and speech, and cultural power from both above and below (royalty, nobility, and the court; clowns and fools).
ENGL E-129 Shakespeare After All Free online course in video lectures
Study Resources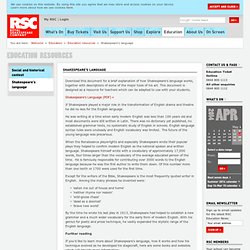 Shakespeare's language
Download this document for a brief explanation of how Shakespeare's language works, together with descriptions of some of the major tools of his art.
Shakespeare Illustrated, a work in progress, explores nineteenth-century paintings, criticism and productions of Shakespeare's plays and their influences on one another. The Introduction to Shakespeare Illustrated
Shakespeare Illustrated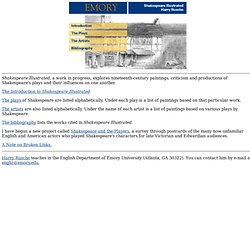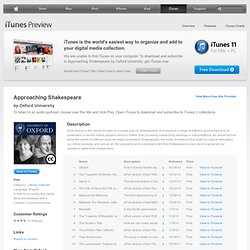 iTunes U - Shakespeare Lectures
Description Each lecture in this series focuses on a single play by Shakespeare, and employs a range of different approaches to try to understand a central critical question about it. Rather than providing overarching readings or interpretations, the series aims to show the variety of different ways we might understand Shakespeare, the kinds of evidence that might be used to strengthen our critical analysis, and, above all, the enjoyable and unavoidable fact that Shakespeare's plays tend to generate our questions rather than answer them.
300-level Course - Shkspr's plays
Folger Education offers a world of online resources for teachers, from individual teaching modules to curriculum guides to videos.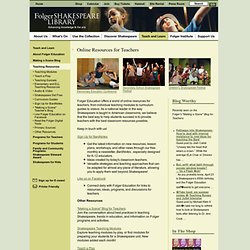 Teaching Resources: Lesson Plans
Glossary of Shkspr's Words
The Chronology of Shakespeare's Plays Establishing the chronology of Shakespeare's plays is a most frustrating and difficult task. It is impossible to know the exact order of succession because there is no record of the first production date of any of Shakespeare's works.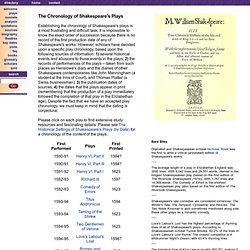 Timeline of Plays