Zone zz Osha info
CPL_02-00-148.pdf (application/pdf Object) Imminent Danger. Workers > Imminent Danger: Imminent Danger Call (800) 321-OSHA immediately to report imminent dangers.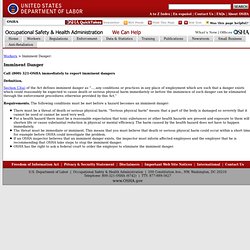 US Occupation Safety & Health. Oregon OSHA - Oregon Occupational Safety & Health Division. Search Results: mold. Did you mean: molde [PDF] OSHA pttu [PDF] Publication - Construction Depot Quarterly: Fall 2003 (3351 ...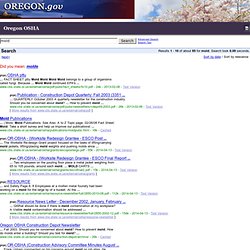 How to File a Complaint with OSHA. Who Can Complain?
Employees or their representatives have a right to request an inspection of a workplace if they believe there is a violation of a safety or health standard, or if there is any danger that threatens physical harm, or if an "imminent danger" exists. Employee representatives, for the purposes of filing a complaint, are defined as any of the following: An authorized representative of the employee bargaining unit, such as a certified or recognized labor organization. An attorney acting for an employee. Any other person acting in a bona fide representative capacity, including, but not limited to, members of the clergy, social workers, spouses and other family members, and government officials or nonprofit groups and organizations acting upon specific complaints and injuries from individuals who are employees.
---