Sites institutionnels Américains
HEALTH_GOV - Dietary Guidelines for Americans - Planning Has Begun for the Dietary Guidelines for Americans, 2015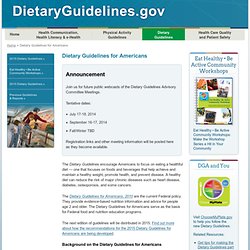 Learn more about the Dietary Guidelines for Americans, 2015. NEW: The second meeting of the 2015 Dietary Guidelines Advisory Committee (DGAC) is scheduled for January 13–14, 2014. A Federal Register notice announcing the meeting is now published.
MAPA - Map of the brazilian government's initiatives to promote the consumption of Fruits & Vegetables
AMERICAN CANCER SOCIETY - 2012 - American Cancer Society Guidelines on Nutrition and Physical Activity for Cancer Prevention
ASSOCIATION POUR LA SANTE PUBLIQUE DU QUEBEC - SEPT 2012 - Guide : La zone-école et l'alimentation: des pistes d'action pour le
OCDE - 2012 - L'OBÉSITÉ ET L'ÉCONOMIE DE LA PRÉVENTION : OBJECTIF SANTÉ - INDICATEURS-CLÉS – CANADA,
GAO 19/05/11 International School Feeding: USDA's Oversight of the McGovern-Dole Food for Education Program Needs Improvement, M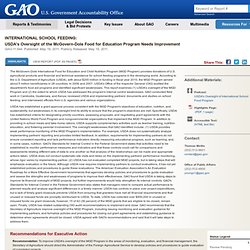 The McGovern-Dole International Food for Education and Child Nutrition Program (MGD Program) provides donations of U.S. agricultural products and financial and technical assistance for school feeding programs in the developing world. According to the U.S. Department of Agriculture (USDA), with about $200 million in funding in fiscal year 2010, the MGD Program served about 5 million beneficiaries in 28 countries. In 2006 and 2007, USDA's Office of the Inspector General (OIG) audited the department's food aid programs and identified significant weaknesses. This report examines (1) USDA's oversight of the MGD Program and (2) the extent to which USDA has addressed the program's internal control weaknesses.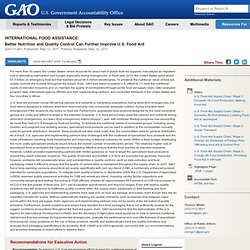 Status Legend: XOpen-Actions to satisfy the intent of the recommendation may be planned but have not yet been taken; actions that only partially satisfy the intent of the recommendation have been taken; or, GAO has not yet assessed the status of the recommendation.Closed-implemented-Actions that satisfy the intent of the recommendation have been taken.Closed-not implemented-While the intent of the recommendation has not been satisfied, time or circumstances have rendered the recommendation invalid. Open Closed - implemented Closed - not implemented Recommendation: To enhance U.S. food aid programs' efforts to meet the nutritional needs of intended recipients, and for U.S. food aid that provides the sole source of diet for recipients of emergency programs that extend beyond a year, the Administrator of USAID and the Secretary of Agriculture should work together to provide clear guidance to implementing partners on how to address nutritional deficiencies that may emerge.
GAO 12/05/11 International Food Assistance: Better Nutrition and Quality Control Can Further Improve U.S. Food Aid, May 12, 2011
NUTRICAST - JUILLET 2010 - Perspective sur la nutrition - Le boeuf et la santé : Réponses à vos questions les plus fréquentes
Eating and Health Module User's Guide by Karen Hamrick Administrative Publication No.
ERS USDA - AVRIL 2010 - Eating and Health Module User's Guide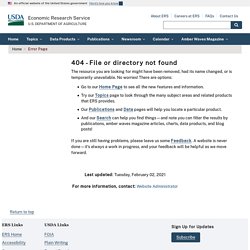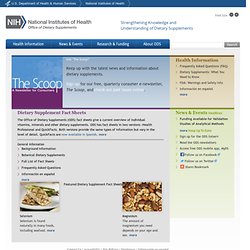 Skip navigation links Font Size Strengthening Knowledge and Understanding of Dietary Supplements
Maladies chroniques au Canada Vol 27, No 4, 2007 Le fardeau de l'obésité chez les adultes au Canada
SANTE CANADA - Le guide alimentaire
CDC - Overweight and Obesity