Sites institutionnels Américains
HEALTH_GOV - Dietary Guidelines for Americans - Planning Has Begun for the Dietary Guidelines for Americans, 2015. Announcement Join us for future public webcasts of the Dietary Guidelines Advisory Committee Meetings.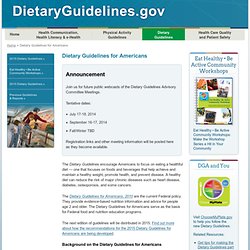 Tentative dates: MAPA - Map of the brazilian government's initiatives to promote the consumption of Fruits & Vegetables. AMERICAN CANCER SOCIETY - 2012 - American Cancer Society Guidelines on Nutrition and Physical Activity for Cancer Prevention. ASSOCIATION POUR LA SANTE PUBLIQUE DU QUEBEC - SEPT 2012 - Guide : La zone-école et l'alimentation: des pistes d'action pour le. OCDE - 2012 - L'OBÉSITÉ ET L'ÉCONOMIE DE LA PRÉVENTION : OBJECTIF SANTÉ - INDICATEURS-CLÉS – CANADA, GAO 19/05/11 International School Feeding: USDA's Oversight of the McGovern-Dole Food for Education Program Needs Improvement, M. The McGovern-Dole International Food for Education and Child Nutrition Program (MGD Program) provides donations of U.S. agricultural products and financial and technical assistance for school feeding programs in the developing world.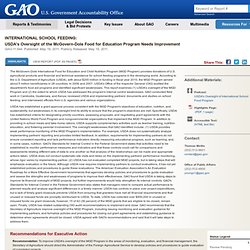 According to the U.S. Department of Agriculture (USDA), with about $200 million in funding in fiscal year 2010, the MGD Program served about 5 million beneficiaries in 28 countries. In 2006 and 2007, USDA's Office of the Inspector General (OIG) audited the department's food aid programs and identified significant weaknesses. This report examines (1) USDA's oversight of the MGD Program and (2) the extent to which USDA has addressed the program's internal control weaknesses.
GAO 12/05/11 International Food Assistance: Better Nutrition and Quality Control Can Further Improve U.S. Food Aid, May 12, 2011. For more than 50 years, the United States--which accounts for about half of global food aid supplies--has played an important role in alleviating malnutrition and hunger, especially during emergencies.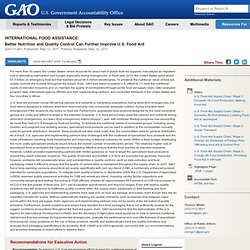 In fiscal year 2010, the United States spent about $1.5 billion on emergency food aid that reached about 46.5 million beneficiaries. To preserve the nutritional value of food aid, quality controls are in place throughout the supply chain. GAO was asked to assess U.S. efforts to (1) meet the nutritional needs of intended recipients and (2) maintain the quality of commodities throughout the food aid supply chain. GAO analyzed program data, interviewed agency officials and their implementing partners, and conducted fieldwork in the United States and four countries in Africa.. NUTRICAST - JUILLET 2010 - Perspective sur la nutrition - Le boeuf et la santé : Réponses à vos questions les plus fréquentes. ERS USDA - AVRIL 2010 - Eating and Health Module User's Guide.
NATIONAL INSTITUTES OF HEALTH - Office of diatery supplements. Le site NUTRITION.GOV. Maladies chroniques au Canada Vol 27, No 4, 2007 Le fardeau de l'obésité chez les adultes au Canada. SANTE CANADA - Le guide alimentaire. Overweight and Obesity.
---