Infographymania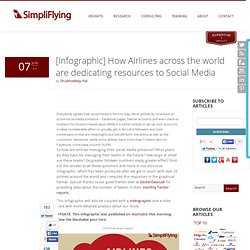 [Infographic] How Airlines across the world are dedicating resources to Social Media
Shubhodeep Pal is the Vice President of Products and Operations at SimpliFlying and has been leading Product Development, Marketing and Business Development since December 2010 from the headquarters in Singapore. His writings have appeared extensively on SimpliFlying as well as revered industry outlets such as Tnooz, Airlinetrends and Loyalty360. He has considerable experience working in the social media sphere, having also conducted a workshop at the Ministry of Home Affairs, Singapore. He has written an introductory e-book for social media newbies and has previously interned at the Economist Intelligence Unit (EIU) as well. His wide range of interests include startups, programming, economics, geopolitics, film-direction/criticism and literature.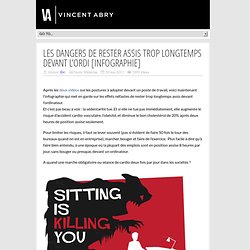 Après les deux vidéos sur les postures à adopter devant un poste de travail, voici maintenant l'infographie qui met en garde sur les effets néfastes de rester trop longtemps assis devant l'ordinateur. Et c'est pas beau à voir : la sédentarité tue. Et si elle ne tue pas immédiatement, elle augmente le risque d'accident cardio-vasculaire, l'obésité, et diminue le bon cholestérol de 20% après deux heures de position assise seulement. Pour limiter les risques, il faut se lever souvent (pas si évident de faire 50 fois le tour des bureaux quand on est en entreprise), marcher, bouger et faire de l'exercice.
Les Dangers de rester assis trop longtemps devant l'ordi [infographie]
aGbJgL7Q1cWsfDiNA3eyZjl72eJkfbmt4t8yenImKBU8NzMXDbey6A_oozMjJETc.jpg (Image JPEG, 448x1058 pixels) - Redimensionnée (77%)
History of Social Networking You might be using social networks every day. Everyday you chat with your friends, send emails, find new friends, play games and do a load of stuff together on the web. But, do you know how it all began?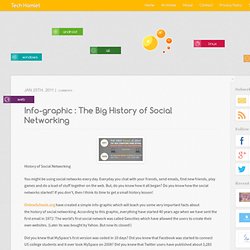 Info-graphic : The Big History of Social Networking
Happy Friday, everyone. If you'll allow me, I'd like to take a moment to talk about something serious. In a move I believe is best for everyone (but mostly me), I am switching gears to only cover facets of pop culture and toilet humor. I will also be switching focus to online education. It's come to my attention that this is a lucrative area, and leveraging my authority on information and data graphics, I believe I can become a rich man and retire by age thirty, quite possibly making four figures even sooner.
In land of YouTube dislikes, Justin Bieber rules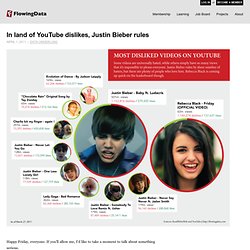 tp://www.bitrebels.com/social/how-airlines-use-twitter-infographic/
Qu'est que le web sémantique ?
On a peut-être tendance à l'oublier mais, Facebook sert aussi à jouer. Le réseau social est même devenu une plateforme importante de jeu, ou de nombreux titres sont devenus très populaires. Le site Allfacebook a donc décidé de résumé en dix statistiques les chiffres à connaître au sujet des jeux sur Facebook. Voici quelques exemples qui montrent l'importance des jeux sur le réseau social : 53% des utilisateurs Facebook jouent à des jeux sur le site19% d'entre eux sont addicts aux jeux69% des joueurs sont des femmes20% ont utilisé de l'argent réel pour l'achat d'améliorations dans un jeu56 millions de personnes jouent chaque jour290 millions de personnes jouent chaque mois50% des personnes qui se connectent ne viennent que pour jouer
Infographie : 10 statistiques à propos des jeux sur Facebook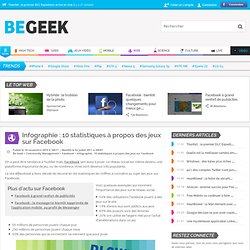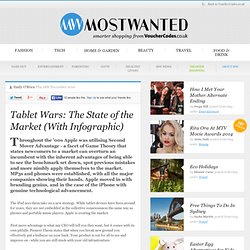 Tablet Wars: The State of the Market (With Infographic)
Throughout the '00s Apple was utilising Second Mover Advantage - a facet of Game Theory that states newcomers to a market can overturn an incumbent with the inherent advantages of being able to see the benchmark set down, spot previous mistakes and more nimbly apply themselves to the market. MP3s and phones were established, with all the major companies showing their hands. Apple moved in with branding genius, and in the case of the iPhone with genuine technological advancement.
Mineurs chiliens
NOTCOT.ORG
En une seule image
Infographie : l'évolution du Geek
Après la définition du Geek en vidéo, voici une infographie nous montrant l'évolution du Geek. Celle-ci présente toutes les versions de Geeks qui ont traversé le temps. Le geek a su diversifier ces centres d'intérêts, désormais il existe des geeks dans de multiples domaines [Via Flowtown]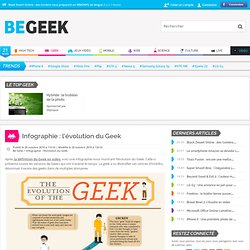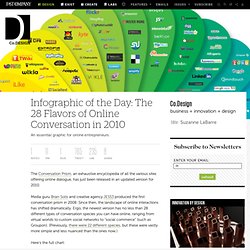 he 28 Flavors of Online Conversation in 2010
The Conversation Prism, an exhaustive encyclopedia of all the various sites offering online dialogue, has just been released in an updated version for 2010. Media guru Brian Solis and creative agency JESS3 produced the first conversation prism in 2008. Since then, the landscape of online interactions has shifted dramatically.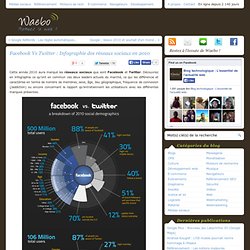 Cette année 2010 aura marqué les réseaux sociaux que sont Facebook et Twitter. Découvrez en infographie ce qu'ont en commun ces deux leaders actuels du marché, ce qui les différencie et caractérise en terme de nombre de membres, sexe, âge, lieu géographique, fréquence de connexion (/addiction) ou encore concernant le rapport qu'entretiennent les utilisateurs avec les différentes marques présentes. Source : DigitalSurgeons
Facebook Vs Twitter : Infographie des réseaux sociaux en 2010
Facebook vs Google
Essor de Facebook sur mobiles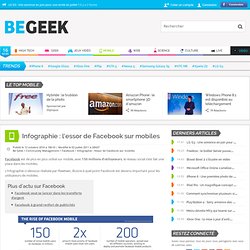 Facebook est de plus en plus utilisé sur mobile, avec 150 millions d'utilisateurs, le réseau social s'est fait une place dans les mobiles. L'infographie ci-dessous réalisée par Flowtown, illustre à quel point Facebook est devenu important pour les utilisateurs de mobiles. [Via Allfacebook] Vous avez aimé cet article ? Inactif Partager vos lectures sur Facebook
obsessed-with-facebook.jpg (Image JPEG, 640x3470 pixels)
Infographie Twitter
Infographie : Twitter en chiffres et en faits
Infographie : la fulgurante ascension de Twitter
Twitter a franchi le cap fatidique des 20 milliards de tweets le 31 juillet dernier. Alors qu'il lui aura fallu attendre 4 ans pour atteindre la barre des 1 milliard, il ne lui aura fallu que 5 mois pour doubler ce chiffre ! A ce propos, savez-vous qui a lancé ce 2 milliardième tweet ? Allez, j'attends…
Infographie Twitter : Comment prendre son envol avec Twitter
8 Useful Infographics on Twitter stats you can't afford to miss !
Many a times, numbers don't really make any sense at all. They're just numbers and that's what they are. But I love infographics for the fact that they put things into perspective, and in one glimpse you understand what that numbers really mean. These are the best infographics out there on Twitter. Informative, fun and meaningful. Hope you like ' em.