Astro
Get flash to fully experience Pearltrees
A massive space rock – one that could rank as one of the largest meteorites ever recovered – has been found in a remote and mountainous region in northwest China, according to news reports. The huge and oddly-shaped rock was found in the Altai mountains in China's Xinjiang Uygur province, according to Sky and Telescope magazine . Earlier this month, Baolin Zhang, a meteorite specialist at the Beijing Planetarium, led a small team up a 9,500-foot (2,900-meter) summit to investigate reports of the supposed meteorite. "This is a huge iron meteorite," Zhang said in footage from China Central Television .
The Spektr-R observatory, called RadioAstron, has spent 30 years on the drawing board – but experts hope that its huge range will compensate for the delays in getting it into space. But what makes it such a big deal? The biggest dish in the universe While radio telescopes on Earth are limited by physics and the effect of gravity on their design and construction, shifting into orbit changes the rules of the game. The 10-meter antenna on RadioAstron is puny compared with its 100-meter counterparts downstairs, but one orbiting our planet at a distance almost as great as the moon's, it can join up with Earthbound monitors to create a massive virtual "dish" in the heavens.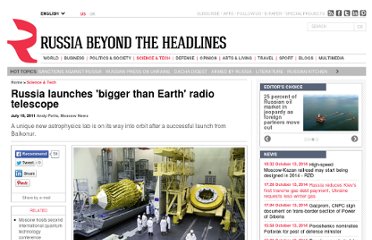 Artist's impression of the dishes that will make up the Square Kilometre Array radio telescope. It will revolutionise our understanding of the universe and might help us make contact with alien life. The square kilometre array is one of the most ambitious science projects ever conceived and when completed will be the world's most powerful radio telescope, thousands of times more capable than anything currently available. It could explain the origin of dark matter, which makes up about 90 per cent of the universe and reveal how galaxies and stars were formed. But what has scientists most excited is its potential to reveal things not yet dreamed of.
A 4.5-billion-year-old meteorite from northwest Africa has yielded one of the earliest minerals of the solar system. Officially called krotite, the mineral had never been found in nature before, though it is a human-made constituent of some high-temperature concrete, according to study researcher Anthony Kampf, curator of Mineral Sciences at the Natural History Museum of Los Angeles County. [ Image of new mineral ] "This is one that simply was not known in nature until we found it here," Kampf told LiveScience. "That's pretty dramatic." The meteorite containing krotite is called NWA 1934 CV3 carbonaceous chondrite. Chondrites are primitive meteorites that scientists think were remnants shed from the original building blocks of planets.
One of the thousands of fragments recovered from the Allende meteorite, which fell in Mexico in 1969. The black area is a fusion crust, produced from the heat of slamming into Earth's atmosphere. New studies of one such fragment provided evidence that the object the meteorite originated from had a magnetic field. A new analysis of one of the most well-known meteorites on Earth provides strong evidence that the prevailing view of many asteroids is wrong.
There is no greater eccentric than a Russian eccentric. Yes, all countries have their eccentrics, but they aren't like Russian eccentrics. Russian eccentrics are just so… Russian.
A newfound asteroid has been discovered to be trailing Earth on an oddball course: an orbit that looks a lot like a horseshoe. The space rock, called asteroid 2010 SO16, has been following Earth as our planet orbits the sun for at least 250,000 years and is up to 1,312 feet (400 meters) wide, scientists said. It was initially spotted by NASA's WISE infrared space observatory. [ Photos of asteroid 2010 SO16 and its orbit ]