Medical Robots
World''s first intubation robot operated by remote control introduced. Washington, Apr 16: The world''s first intubation robot operated by remote control has been introduced.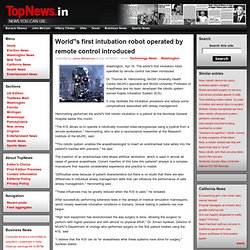 Dr. Thomas M. RIBA II Healthcare Robot Gets Bigger Muscles, Cuter Ears. We first met RIBA (or, RIBA-I as we should start calling it) back in 2009, although the assistive robot has been around since 2004.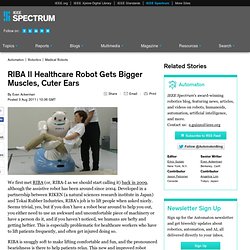 Developed in a partnership between RIKEN (a natural sciences research institute in Japan) and Tokai Rubber Industries, RIBA's job is to lift people when asked nicely. Seems trivial, yes, but if you don't have a robot bear around to help you out, you either need to use an awkward and uncomfortable piece of machinery or have a person do it, and if you haven't noticed, we humans are hefty and getting heftier. This is especially problematic for healthcare workers who have to lift patients frequently, and often get injured doing so. RIBA is snuggly soft to make lifting comfortable and fun, and the pronounced bearishness is there to help patients relax. This new and improved robot (RIBA-II) features springs to help it lift more weight, and it responds to both touch and voice commands:
RIBA Can Lift 135 Pounds, Has Cute Ears. Writing by Evan Ackerman on Friday, 28 of August , 2009 at 3:20 am It looks as though the robotics industry has collectively decided that the best way to make a robot appear both strong and not creepy is to give it a cute pair of bear ears .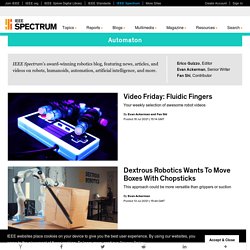 And why not? As researchers at Japan's Institute of Physical and Chemical Research point out, the best way to make RIBA, their Robot for Interactive Body Assistance, not freak people out is to not try to make it look human at all. Good call, guys. Riken & Tokai Rubber Industries "RIBA-II" 1/2. Using Robots to Train the Surgeons of Tomorrow. This article is the first of a series that will explore recent advances in surgical and medical robotics and their potential impact on society.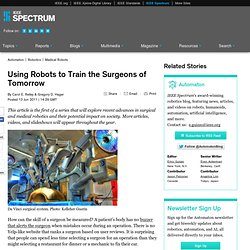 More articles, videos, and slideshows will appear throughout the year. Da Vinci surgical system. Photo: Kelleher Guerin How can the skill of a surgeon be measured? Awesomely Bad Ideas: Teaching a Robot to Sword Fight. In a paper presented this week at the IEEE International Conference on Robotics and Automation (ICRA), in Shanghai, Georgia Tech researcher Tobias Kunz starts thusly: "In order to deploy safe and flexible robots for service and automation, robots must act safely in close contact with humans.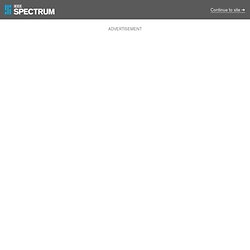 " Accompanying this innocuous first sentence is this picture: You're probably wondering, at this point, just what the heck a robot with a sword has to do with safety of all things. Teaching a Robot to Sword Fight. Researchers Smash Super-Tough Robot Arm With Baseball Bat. Why is this man about to smash his robot with a bat?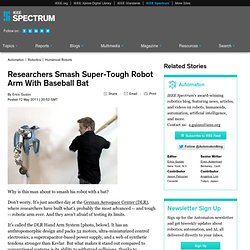 Don't worry. It's just another day at the German Aerospace Center (DLR), where researchers have built what's probably the most advanced -- and tough -- robotic arm ever. And they aren't afraid of testing its limits. Robot Arm Smashed With Baseball Bat. Robot Arm Using a Hammer. Da Vinci Surgical Bot Folds, Throws Tiny Paper Airplane. Everybody already thinks that robot surgery is way cool, but I suppose there's no harm in taking a few minutes to show off the precision that tiny little robot grippers are capable of.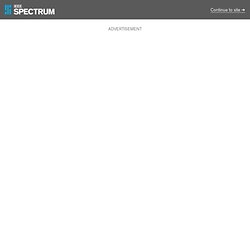 On the other end of these steely claws is an even steelier-eyed surgeon with a questionable amount of aeronautical experience, and in between the two is a da Vinci surgical system. This particular robot hails from Swedish Hospital in, you guessed it, Seattle. The da Vinci system, if you recall, provides surgeons with an interface that allows them to control little robotic hands with their own (much larger) hands, enabling much finer control in a much tighter space. For patients, this means smaller incisions that heal faster, and for surgeons, it means no more going elbow deep into someone else's guts. Seattle Doctor Folds and Throws Paper Airplane Using da Vinci Robot. Autom, the Robot That Helps You Lose Weight.
Autom wants to make you healthier.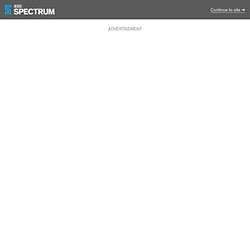 This little robot keeps track of your eating and exercise habits -- and encourages you to stay in shape. Autom speaks with a synthetic female voice, and you interact with it using its touch-screen belly. It won't scold you if you ate two desserts last night; Autom is a very kind robot. But can it really help you lose weight? Autom Weight-Loss Coach Robot. Robot Companions to Befriend Sick Kids. If you've ever spent time with an interactive robot, it's always a novel experience at first -- but over time the thrill will fade.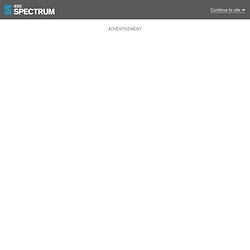 Each time the robot meets you, it will run through a routine of canned responses that gets old pretty quickly. But what if robots were able to remember who you are and retain information associated with you? It might make them better companions, and a step up from passive toys. The ALIZ-E project is a European Commission-funded venture aimed at producing robots that can forge "longer-term constructive bonds" with people in a hospital setting. KASPAR HRI Robot, University of Hertfordshire. KASPAR - il robot pedagogico - tratto dalla BBC.
Kaspar the Friendly Robot Helps Autistic Kids. Kaspar the friendly robot helps autistic kids. (AP) -- Eden Sawczenko used to recoil when other little girls held her hand and turned stiff when they hugged her.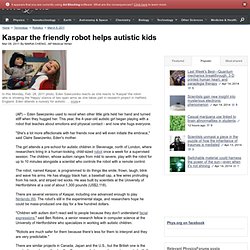 This year, the 4-year-old autistic girl began playing with a robot that teaches about emotions and physical contact - and now she hugs everyone. "She's a lot more affectionate with her friends now and will even initiate the embrace," said Claire Sawczenko, Eden's mother. The girl attends a pre-school for autistic children in Stevenage, north of London, where researchers bring in a human-looking, child-sized robot once a week for a supervised session. Healthcare-robotics.com.
---