Industrial Robots
Get flash to fully experience Pearltrees
This headless, two-armed robot may be tomorrow's factory worker.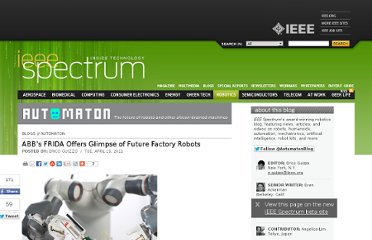 Foxconn, an electronics manufacturer from Taiwan with huge factories in China, generates about 40 percent of the global consumer electronics revenue by creating things like iPhones and computer components on giant assembly lines staffed by humans.
Is this robot the factory worker of the future? The pi4 Workerbot is a new industrial robot capable of using its two arms to perform a variety of handling, assembly, and inspection tasks.
The manufacturing industry in many countries, facing labor shortages and pressed to become ever more efficient, can certainly use a little help. Or how about a Little Helper? Mads Hvilshøj, Simon Bøgh, and their team at Aalborg University in Denmark have been working on an industrial robot, which they named Little Helper, designed for handling parts and moving them around on a factory floor.