Robotics
Top 10 Robot Videos of the Month. Robotics is off to a good start this year.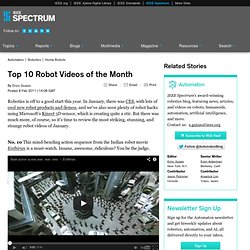 In January, there was CES, with lots of cool new robot products and demos, and we've also seen plenty of robot hacks using Microsoft's Kinect 3D sensor, which is creating quite a stir. But there was much more, of course, so it's time to review the most striking, stunning, and strange robot videos of January. No. 10 This mind-bending action sequence from the Indian robot movie Enthiran is a must-watch. Insane, awesome, ridiculous?
AI. Animal Robots. Mechanical Locomotion. Robot components. Robots at Work. Robot R&D, Production. Robotics Education, Conferences. Other Robot Connections. Home - IFR International Federation of Robotics.
Robotica. PrintTech. Bionica. New Bionica. Research Facilities.
---
mojojuju Mar 21 2011

Here I am again. My father has engineered a few industrial robots. I am a huge Asimov fan. I like to keep informed about how close we are to what was science fiction when I was young. I hope you will accept me as team member. All the Best.
---